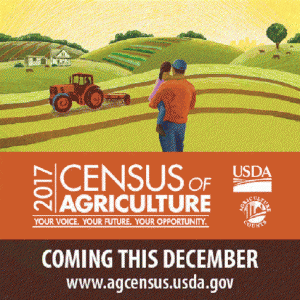 Be on the lookout for mail from the United States Department of Agriculture! I know all of us hate to do surveys but low input and inaccurate numbers will affect your bank account in the long run.
What:
The Census of Agriculture is a complete count of U.S. farms and ranches and the people who operate them. It is taken only once every five years. It is your voice, your future and your opportunity to let the world know the importance of agriculture.
Why:
It provides the only source of impartial agricultural data for every county in the nation. This data influences the decisions that will shape the future of agriculture for years to come. It affects decisions of lawmakers and drives the need for programs offered through local FSA and USDA offices.
Who:
The Census of Agriculture data is used by all who serve farmers and rural communities: federal, state and local governments, agribusinesses, trade associations and others.
How:
The National Agricultural Statistics Service (NASS) will mail questionnaires to farm and ranch operators in December of 2017 to collect data for the 2017 calendar year. Completed forms are due back by February 5, 2018. You can return your form by mail or you can complete it online. You will need the code from your mailed questionnaire to do the online version. Visit www.agcensus.usda.gov to complete the online version.
Need Help?
If you need any help with your survey or have questions you can call (888) 424-7828. Growers in Jeff Davis County are welcome to come by the Extension Office for help or questions as well.
Power in Numbers
There is power in numbers and even more power in $$. Filling out this important Census helps you help yourself. Agriculture is the states #1 Industry and our voice needs to be heard. Accurate numbers impact programs, assistance and support of the Agriculture Industry statewide.