Cooler weather and Phosphorus deficiency can cause corn to turn purple. Some varieties show more discoloration than others. Purple striping is common, but sometimes entire areas of a field can be deficient. This is one reason we suggest soil samples.  Soil types and textures change throughout fields and can vary in nutrient requirements.
Phosphorus deficient corn.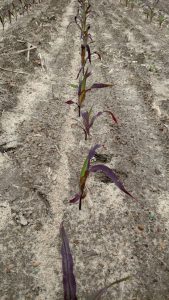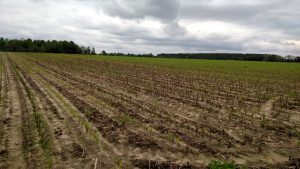 The purple/green line is very clear in this field, which shows us the issue is deficiency vs. weather.
Here are a couple of notes from Dr. Kemerait on the current disease situation in Corn:
Tassel stage (or just prior to tassel) is an appropriate time to consider applying a protective fungicide.  This is especially true if a) southern corn rust has been detected in the area, b) northern corn leaf BLIGHT is problematic in a field (typically with a less-resistant hybrid), c) conditions have been favorable for disease (very wet), d) the corn was planted LATE or e) the grower is aggressive in a disease management program and wants to make sure the crop is protected.
 As of today, 

we have not found SOUTHERN CORN RUST in Georgia

and conditions have not been especially favorable for southern rust.
 As of today, we have had one report of common corn rust from Mitchell County (see picture ).  Common rust typically forms pustules on both sides of the leaf and does NOT need a fungicide application.
 As of today, I have only had a report of northern corn leaf BLIGHT from Decatur County. Northern corn leaf blight can be an important problem that requires a fungicide treatment IF it is severe (e.g., a susceptible variety and favorable weather).  The NCLB in Decatur County was confined to the bottom leaves and there were only a few lesions on about one plant out of 15.  The grower is right to be aware of the problem but I do not think a fungicide is needed for NCLB in that particular field.
 Northern corn leaf SPOT (see pictures) has been found in Mitchell County.  Typically we do not spray for this disease, except in severe cases.  The northern corn leaf spot in this field was confined to the lower leaves and did not appear to be spreading.
CORN:  Bottom line:  We have not detected southern corn rust in Georgia yet.  Conditions over the next few days are more favorable for disease spread, but conditions have been unfavorable.  I would not argue with a grower who wants to apply a fungicide at this time to corn as it reaches the tasseling growth stage; HOWEVER I think the grower is better advised to DELAY a fungicide application at this point and wait at least a week or so.
Common Rust: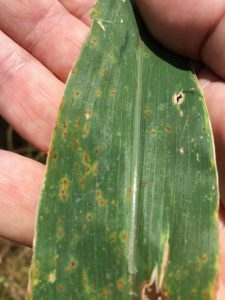 Northern Corn Leaf Blight (NCLB):