The damage progression over the last seven days in our UGA thrips trials was not as severe as I expected. On a 0 to 10 damage scale (0= no damage, 10 = dead plant) untreated check plots that were planted on 29 April averaged a 4.8 on 17 May. Damage ratings for the same untreated plots on 23 May this week averaged 6.8. This level of damage is enough to make most growers unhappy, but I doubt that it will have much effect on growth and development unless the damage get worse. So the question is: Will the damage get worse? There were still adult and immature thrips in the plots, so there is certainly a possibility that damage will progress. Either way, if these were my peanuts in an untreated field, I would have sprayed them with acephate.
Adult thrips numbers were down on our traps over the last week,  but numbers indicate that adult dispersal was continuing. I have been in several fields over the last few days with few to no thrips and others where thrips populations are relatively high. I would hope that we are coming to the close of the major thrips flight, but I would caution growers to continue to keep an eye on recently planted fields. We have seen later planted peanuts get hammered by thrips well after major thrips dispersal had ended.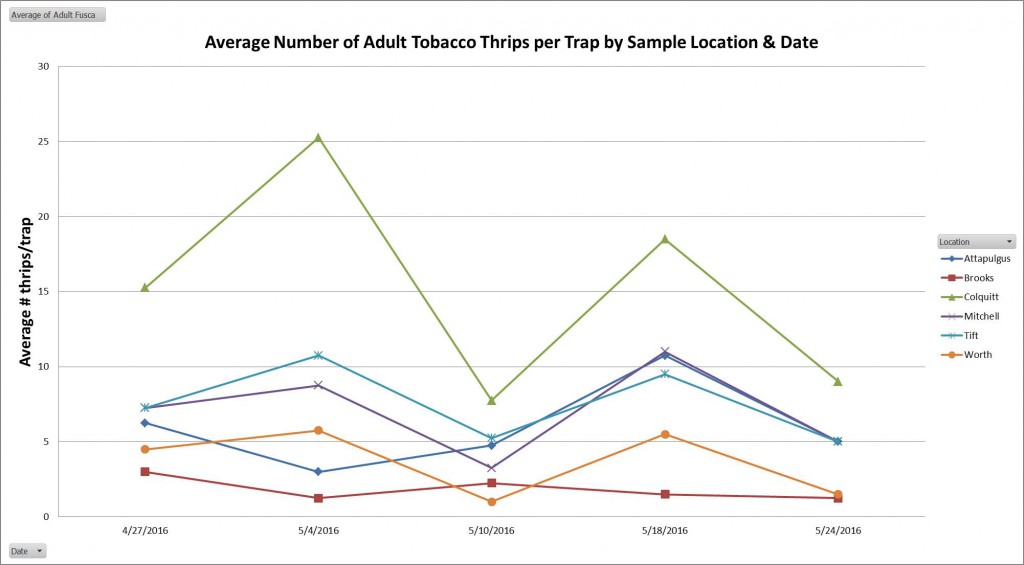 These data are being provided for informational purposes only and may not be representative of thrips dispersal at your location. Peanut fields should be scouted regularly to quantify actual thrips populations.
If you have questions about thrips or thrips management please contact your local county Extension agent.