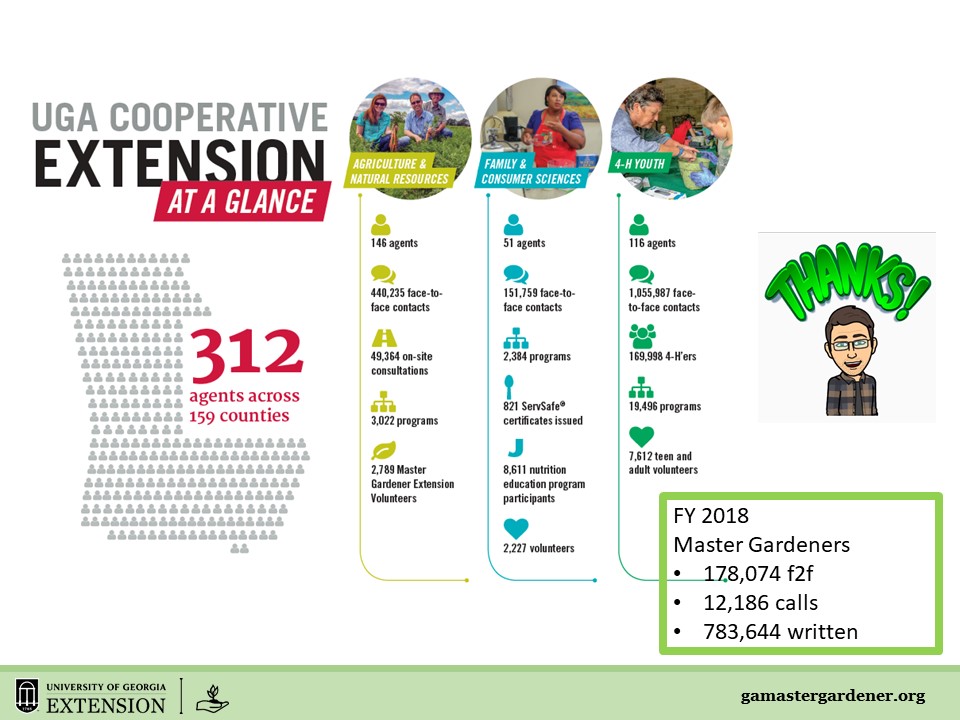 Each year, Extension files a report with our federal partner, the USDA. We give a report on everything that Extension has accomplished since July 1 of the previous year (following a fiscal year of July 1 to June 30). This includes all that MGEVs do each year through our projects and events. This winter at our regional leadership conferences, all of you were very excited to see MGEVs referenced on Extension's infographic with data from the previous fiscal period. We are very proud to assist Extension with program delivery!
We want to be sure that MGEV hours and contacts are up-to-date as we approach this year's reporting timeframe. We've got half of this report data already because of the hours you reported for 2018. Would you please take a few minutes to update your MGLOG account with your 2019 hours? If you have made presentations, be sure to get your sign-in sheets and educational activity reports to your Extension agent (we talked about these this winter at our regional leadership conferences). If you have offered major events this spring, check with your Extension agent to make sure that he/she has recorded those activities in their reporting system, GACounts. We don't want to forget about or miss anything!
It makes me very proud to share the work that you do in your counties with our Extension administration! They certainly appreciate your efforts to share Extension's resources with the public. Thank you for taking a few minutes from your busy spring schedule to share this information with us!