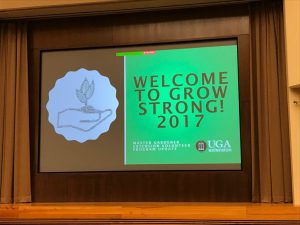 On February 24, 2017, Georgia MGEVs had opportunity to attend Grow Strong! 2017, available in Athens and at 14 other remote sites. We had a GREAT response to the speakers with more questions than we could get answered in the time we had allowed! Our specialists graciously agreed to answer the ones we didn't get to, and I promised to share them here. Our first speaker, Dr. Clint Waltz, Extension Turfgrass Specialist in UGA's Department of Crop and Soil Sciences, elaborates further on these questions about turf.
I thought core aerification was only supposed to be done in the fall when overseeding a fescue lawn? Does fescue need core aerification two times a year – spring and fall?
Typically not necessary, aerification of tall fescue in the fall and spring can be beneficial.  It is suggested that spring aerification of tall fescue not occur after end-March.
Why are prices down 2016 to 2017 on turf?
It could be multiple reasons including and increase in acreage over the last few years and lower input costs (e.g. fuel).
Pickens County Question: Considering this year's early soil warming, when do you recommend applying a pre-emergent to a fescue lawn? Now, or is it too late? We are north of Atlanta.
It is not too late for North Georgia.  It is still an appropriate time to apply a preemergence herbicide for summer, annual, grassy weed control.
Is TifTuf a state-wide grass?
Yes
Where are the majority of sod farms located?
The majority are located in central Georgia but there are farms statewide.
Is there a way to control annual bluegrass in tall fescue? Any post-emergent herbicides for homeowners?
Not really.
How to control/kill dandelions, chickweed, henbit, in St Augustine, Centipede, NOW in coastal plains?
At this point of green-up for St. Augustinegrass and centipedegrass, the best weed control would be keeping the lawn regularly mowed.  Most of the phenoxy based herbicides used for broadleaf weed control can be injurious to these turfgrass species
Is there post-emergence control product for poa annua available to homeowners (non-commercial)?
If by "non-commercial" it is meant available at big-box retail outlets, then there few to no options.  Homeowners can purchase pesticides at landscape supply stores (e.g. SiteOne, Ewing, etc.).  There are options for warm-season grasses, particularly for bermudagrass and zoysiagrass where there are more options that do not cause turfgrass injury.  In centipedegrass and St. Augustinegrass, there are options but turfgrass injury and delayed green-up can be an issue.  For tall fescue, there are really no options. 
Should the core plugs be removed from turf or is it okay to leave them on the turf?
If compaction is an issue, then core removal is encouraged.  For the purpose of improving green-up and turfgrass coverage this spring then leaving them and allowing cores to work their way back into the soil over time will be fine.
How do you get rid of moss in your turfgrass?
We have a publication on that.  Google "Controlling Moss and Algae in Turf (C 823)" and it should be the first thing in the list.
Is TifTuf available commercially?
Yes, there are several producers in state.
Is TifTuf available for home yards? Cost?
Yes.  The cost maybe variable depending on the producer but I'd expect the range to be $0.35 to $0.45 per sq. ft.
What can you do if grass was neglected for years and now has 5 different grasses?
Choose a species and manage to optimize its growth.
How can lawns be managed to enhance pollinator habitat?
Implement and IPM approach to pest management.
Do you have a recommendation for turfgrass for heavy shade under tall pines?
It is dependent on the amount of shade.  Some sites are not suitable for turfgrass.  In the place of grass other considerations may include mulch or a shade tolerant ground cover.
Poa control-Does this have effects on bees or other pollinators?
This is unknown but doubtful since herbicides typically affect plant-only systems.
Why is zoyziagrass increasing in use? How far north is it recommended?"
It is an aesthetically appealing species with dense canopy density that is well adapted in a diverse landscape environment (e.g. open sun and some shade).  Marketing may also play a role in its increase in popularity.  Most zoysiagrass cultivars can be grown statewide, including the more northern areas.
Will fertilization requirements change this year to assist in greenup? If so, how?
Not really.  The first nitrogen application should not occur until the 4-inch soil temperatures are consistently 65° F and rising.  Obviously, this is variable from the southern to northern parts of the state.
Does TifTuf grow well in shaded areas?
It is a bermudagrass and is best adapted to full sunlight.  In my trials that evaluate species and cultivar performance under limited light environments, TifTuf has performed reasonably well (i.e. maintains commercial acceptability, canopy density, etc.) after four years of evaluation.  At this time, I'm comfortable with TifTuf down to 6 hours of filtered to intermittent sunlight per day during the growing season (i.e. May through October).