Peanut rust (Puccinia arachidis) is being found in fields across our state and area. This is different from early or late leafspot.
Many growers have 2 or more fungicide applications to go until harvest. They must remain vigilant. Where rust is an imminent threat, shortening spray intervals, example from 14 down to 10 days, can be beneficial. ALSO- note that as outstanding as Miravis is on leafspot, it is not a strong fungicide against peanut rust.
Dr. Culbreath, UGA Plant Pathologist says, "Chlorothalonil is active against rust, but is purely a protectant. Control of rust with chlorothalonil may require a shorter application window. Growers who like to end up their season with Topsin should not rely on that fungicide alone for rust control, mixtures with full rates of tebuconazole or chlorothalonil should help with rust. Tebuconazole and chlorothalonil have 14 day PHIs. Alto is another fungicide that works well against rust and provost silver should work well also. There are other products that have rust on the label, but we haven't tested it against rust."
Cotton
Areolate mildew continues to be found in more cotton fields across the Coastal Plain. While the fields have been scattered, areolate mildew will quickly spread with favorable weather conditions (rain, heat etc.). Dr. Bob Kemerait pointed out that we have limited efficacy data, but what we do have shows that timely fungicide applications can protect yield IF, 1) you are further than 4 weeks from defoliation, 2) you have good yield potential, 3) the disease has not advanced too far, and 4) weather conditions are favorable for spread (they are).
Boll Rot
Diplodia boll rot and Colletotrichum boll rot are being found in fields in the southwest district, particularly in lower bolls. Bacterial boll rot is not as common but has been found. Still unclear how prevalent Phytophthora boll rot is. With the increased rainfall, this is likely to get worse. Unfortunately, fungicides do not help against these boll rots. If you have irrigated fields, avoid unnecessary irrigation.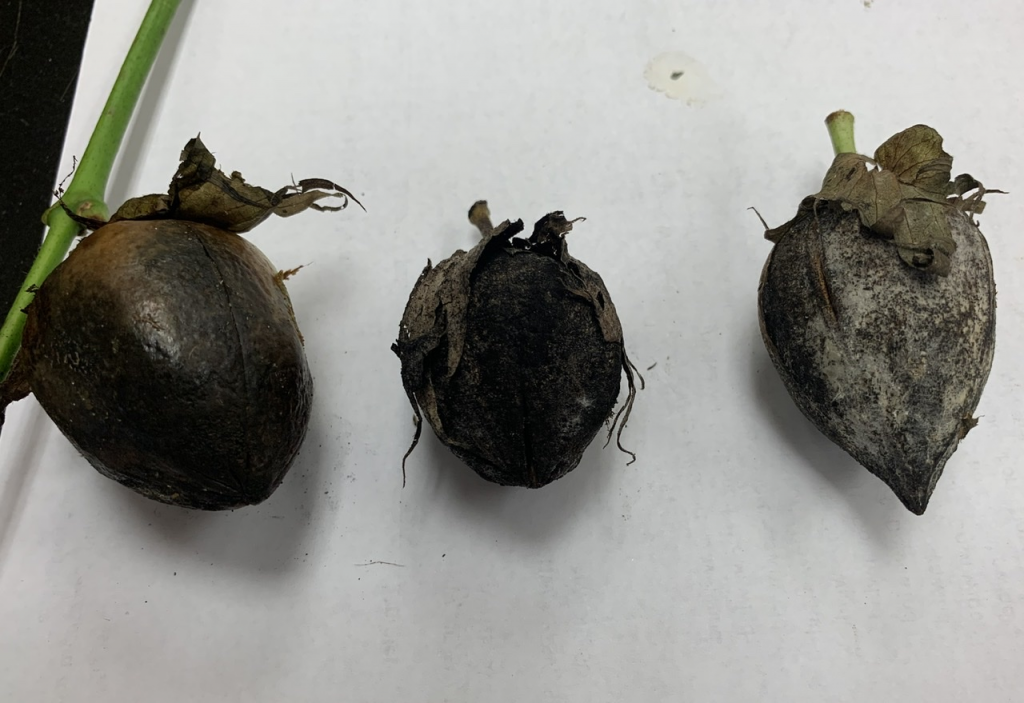 Peanut Maturity Sampling
Harvest season is right around the corner! Starting September 8th, I will be available Tuesday – Thursday between 9am-12pm to check peanut maturity at the Macon County Extension office. Bring a sample of around 100-200 pods. Picking samples from around 5 different areas of your field will give a more accurate representation of peanut maturity. Please give me a call ahead if you plan on bringing a peanut sample, have any questions or need to schedule another meeting time. The office number is 478-472-7588.
UGA Junior Herd Builder Program
There is a great way to get youth involved with cows outside of the show ring. The UGA Junior Herd Builder Program is open to 4-H members currently enrolled in 8th-12th grade.
Participants will develop a pen of heifers for the purpose of future production or sale. Participants will be responsible for securing three heifers of similar age and genetics to develop through the beef production cycle utilizing the UGA Extension Beef Management Calendar as a guide. Participants will learn from University of Georgia Beef cow and Animal Science experts.
Objectives:
Expose youth to the beef industry of Georgia
Educate and serve the beef industry of Georgia
Enhance leadership, decision-making and management skills of youth participants
Develop heifers which are source identified and genetically verified
Promote animal and environmental stewardship
Important Dates:
Program Registration Deadline: September 14, 2020
Orientation: September 15, 2020
Module Deadline: November 2, 2020
Live Animal Deadline: November 16, 2020
Recordbook Deadline: May 7, 2021
Live Program Evaluation: May 21, 2021
Please give me a call if you have a child interested or to find out more information.
As always, if you have any questions, please give me a call or contact your local County Agent.