Hey Long County citizens,
My name is Shelby Mumma and I am the new 4-H educator for UGA Extension here in Long County. I am so excited to be given this opportunity to help serve 4H youth members in our community. I will work alongside Annette Walker who serves as the County Administrative Assistant for Long County Extension.
I graduated in May this year with a degree in Agricultural Communications and became a proud ABAC alumna..Go Stallions! During my time at ABAC, I was able to complete several internships. Some include: Social Media Intern for the Sunbelt Ag Expo, Communications Intern at the Georgia Peanut Commission and an Ag. Educator/Animal Husbandry Intern at Flint Hill Farm Agri-Educational Center. I also am familiar with UGA as I spent a summer working as a Research Assistant at UGA Tifton for Dr. Culpepper in the Weed Science Department. I believe that my experiences at ABAC have helped me come into this role with ideas to help our future leaders find their voice. I can't wait to extend my knowledge with our 4-H youth while learning from them as well!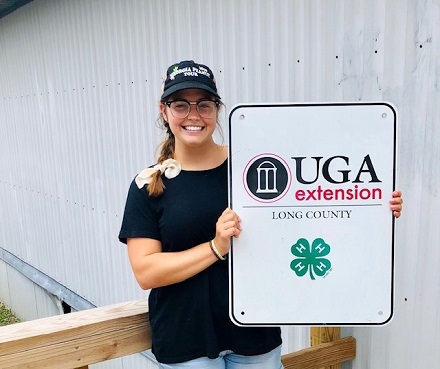 My first week in this new position has been a lot of emails, training and paperwork! After 'the dust settles', I plan on getting out in the community to recruit 4H members and volunteers through social media, the newspaper, and visiting the schools. As the 4-H motto goes, we want to make the best, better! I hope that your student(s) decides to take a leap of faith and try something new this coming year.
In addition to joining the 4H community, I am also a new resident to Southeast Georgia. I recently moved to Screven, Georgia upon graduation. However, I am ready to make the sweet town of Ludowici my second home! In my spare time, I enjoy doing anything outdoors, going to the gym and spending time with my family.
Over the next several weeks, I plan to 'make my rounds' in the community to meet some future familiar faces I will be collaborating with. I look forward to meeting everyone and learning more about each department that makes Long County the great community that it is.
If you haven't done so already, please consider liking the Long County 4-H page on Facebook. There will be some information about joining and other ways to get involved coming soon. If you'd like to introduce yourself or want to know more about the plans for Long County 4-H, you can reach me at shelby.mumma@uga.edu or call 912-545-9549.
See you out and about soon,
Shelby Mumma