By Will Lovett
Bacon County CEC
 Its fall again! That means it is time for planting winter forages. Proper Drill adjustment and maintenance is critical for successful stand establishment.   We will discuss a step by step approach to clean and prepare your drill for use.
Seed Cups and Drop tubes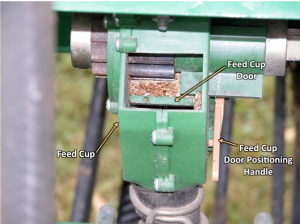 In my experience, seed cups and drop tubes are prime real estate for dirt daubers and spiders. Their nests and webs must be cleaned out prior to using the drill. Failure to clean these out could result in restricted seed flow.
Most drills will use a combination of fluted meters and a sliding plate to meter seeding rate. Depending on the manufacturer, the flute or the plate will adjust to allow more or less seed to flow out. Make sure these are adjusted equally for each seed cup to increase planting consistency.
Disc Openers and Coulters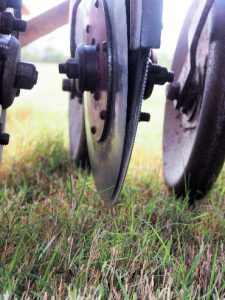 It is important to keep disc blades in good working order. Chipped, bent, or wobbly disc and coulters need to be replaced before using. Worn discs with gaps tend to hairpin residue in the seed slot instead of cutting cleanly and will lead to uneven seed placement and poor or inconsistent germination. Typically, the gap between discs should be less than the thickness of a business card. Many drill models include bushings between the spindle shank and disc that can be added or removed to adjust double disc openers "gap". Follow your manufacturer's recommendations for disc replacement.
Press Wheels
Press wheels on a drill play two important roles. They adjust the depth of the disc openers and close the furrow to provide the seed to soil contact needed for germination. Check wheel bearings and linkage bushings for excessive wear. Replace loose bearings and bushings. Worn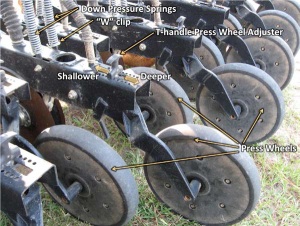 parts will cause inconsistent seeding depth and trench firmness.
Field Setup
After ensuring that your drill is in good working order, you will need check field setup for proper planting.
Seed Rate: most drills have charts available estimate the correct seed cup setting for species.
Seeding Depth: Coulter down pressure and disc openers need to be adjusted for proper seeding depth. Coulter depth typically should be set at twice the depth targeted for the seed. For instance, if the recommended planting depth is ½ inch the coulter should be cutting approximately 1 inch deep.
Successful establishment of cool season forages depends greatly on proper drill set-up. For more information, visit your local extension agent or www.georgiaforages.com.