On Sunday, July 17th, five dairy science majors, one recent graduate of with a dairy science masters, and myself ventured to Salt Lake City, Utah for the American Dairy Science Association Student Affiliate Division (ADSA-SAD) meetings. This meeting is held in conjunction with the American Dairy Science Association and American Society of Animal Science meetings, which bring in over 3,000 attendees.
With the success of the UGA Dairy program growing, this year's trip was trickier than usual to coordinate. One student is in New York interning on a large dairy operation and working closely with the farm's nutritionist, one student is back in Pennsylvania helping with the family farm, one student is in Michigan on an internship with Alta Genetics, one was in Virginia working with Cooperative Extension, and the last is holding down the fort at the UGA Teaching Dairy in Athens. Though the travel may have been tricky, the trip was well worth it!
Once everyone made it safely to Salt Lake City, the learning, competing, and networking began! On Monday, the students visited Bateman's Mosida Farms where they are milking approximately 7,000 in the desert just outside of Salt Lake City. This progressive, family run farm is working on growing even larger to allow for the next generation to return to the farm.   Milking in two double 40 parallel parlors with over 1,000 calves on bottles, the farm was focused on animal comfort and cleanliness. In addition, they were not afraid to dive into new ventures, which currently included a calving barn with heated floors and a new solar field that would go online by end of summer to offset energy expenditures. Continuing with the theme of taking leaps in hopes of big rewards, the students were next off to the Utah Olympic Park for some time to explore activities of the winter games.
Tuesday was a much anticipated day…quiz bowl! This is the day that groups spend many hours preparing and practicing for in an effort to prove their school's worth in head to head competitions of dairy knowledge. Morning testing, decided where schools were seeded in the initial brackets. The team from UGA, comprised of Sarah Jane Thomsen, Nathan Webb, Kayla Alward, and Mary Write, were rewarded for high test scores with a bye in the first round. With 11 schools representing some of the nation's finest in dairy students, they knew they were in for a long day. The most exciting match of the day was between UGA and Cornell. After an intense round, the team from UGA won to push Cornell from the competition. With a loss to Virginia Tech, UGA ended up fourth in the quiz bowl competition. This left the top four teams nationally (presented here in order) Penn State, Cal Poly, Virginia Tech, and UGA.
Wednesday was a day of business meetings and presentations. Lily Masa highlighted the UGA Commercial Dairy Heifer Show in the activity symposium.   Then students made the following presentations to audiences comprised of their peers, academicians, industry personnel, and general dairy enthusiasts from around the world.
Influence of a BRDC vaccine with a MLV or KV IBR component on estrous cycle parameters and anti-müllerian hormone concentration in nulliparous heifers. Lark Widener, David J. Hurley, William M. Graves, Andra H. Nelson, Daniela A. L. Lourenco and Jillian F. Bohlen.
Impact of a BRDC vaccine with a MLV or KV IBR component on the innate inflammatory profile of nulliparous heifers. Lark Widener, David J. Hurley, William M. Graves, Andra H. Nelson, Daniela A. L. Lourenco and Jillian F. Bohlen.
Assessing the correlation between teat end scores and presence of mastitis in lactating Holstein cows. Kayla J. Alward, Jillian F. Bohlen, Lane O. Ely and Stephen C. Nickerson.
A future for genomics in animal health through the Bovine Respiratory Disease Complex: Coordinated Agricultural Project. Sarah J. Thomsenand Jillian F. Bohlen, University of Georgia, Athens, GA
The final day of the meeting was held aside for national officer elections and the awards banquet. Again this year, the UGA group walked away proud of their accomplishments, which are outlined below.
Kayla Alward WON the national undergraduate research competition!!! She was recognized during the American Dairy Science Association Awards Program.
Kayla Alward was elected First Vice President to the National ADSA-SAD organization.
UGA Dairy Science club activities and the scope of what the club does was made noteworthy in the annual report scoring.
The UGA Dairy Quiz Bowl Team was named 4th high nationally.
Kayla Alward, Mary Wright, and Sarah Jane Thomsen were recognized for high academic scholarship in Dairy Science.
Jillian Bohlen was named 2nd year advisor to the national ADSA-SAD organization.
Jillian Bohlen was elected as the Southern American Dairy Science Association Secretary.
Jillian Bohlen was nominated and accepted to serve on the Genevieve Christen Distinguished Undergraduate Student Award Committee, which recognizes the top dairy science student in the nation.
The trip home was made Friday, July 22nd! This group as well as the UGA Dairy Science Club as a whole would like to thank the Georgia Dairy Youth Foundation, Milk Check-Off, and the Animal and Dairy Science Department at UGA for helping support them on this trip. We look forward to continuing great things as classes get underway this fall!
Below is more information about the students that attended.
Kayla Alward – recipient of UGA's Student Employee of the year as well as the for the southern region, which includes 12 states, is a rising senior that lives and works at the UGA Teaching Dairy in Athens. She hopes to work in the field of dairy cattle reproduction.
Lily Masa – is a senior that works at the UGA Teaching Dairy in Athens. Creative, reliable, and hard working, she hopes to continue working with large animals after graduation in December.
Sarah Jane Thomsen – is a rising senior who currently lives and works at the UGA Teaching Dairy in Athens. She wants to mingle her love for people and agriculture in her future career and hopes to pursue graduate education with a focus in extension work.
Nathan Webb – a native of South Georgia and rising Senior hopes to work in the field of dairy cattle nutrition.
Lark Widener – is a recent graduate with a Master's in Dairy Science under the direction of Dr. Jillian Bohlen. She would like to work in the area of reproductive consultation and has already had job offers in labs focusing on reproductive and health analysis of dairy cattle.
Mary Wright – is a rising junior from Pennsylvania that wants to pursue a degree in veterinary medicine with a focus in food animal medicine.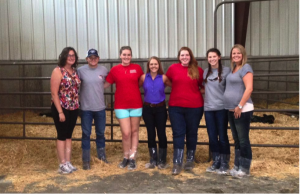 The delegation from Georgia in the calving barn at Bateman's Farm. L to R: Lark Widener, Nathan Webb, Mary Wright, Kayla Alward, Lily Masa, Sarah Jane Thomsen, and Dr. Jillian Bohlen.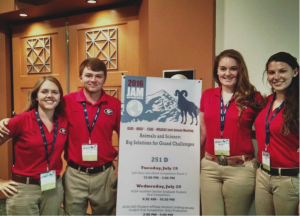 The UGA Dairy Quiz Bowl Team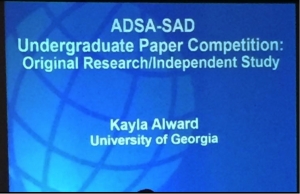 The equivalent for "your name in lights" at the ADSA meetings! Kayla was recognized as the national winner for undergraduate research at the organization's awards program.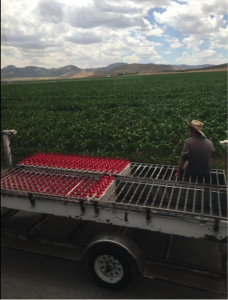 Dairy farming with a view in Utah.