By Heather Kolich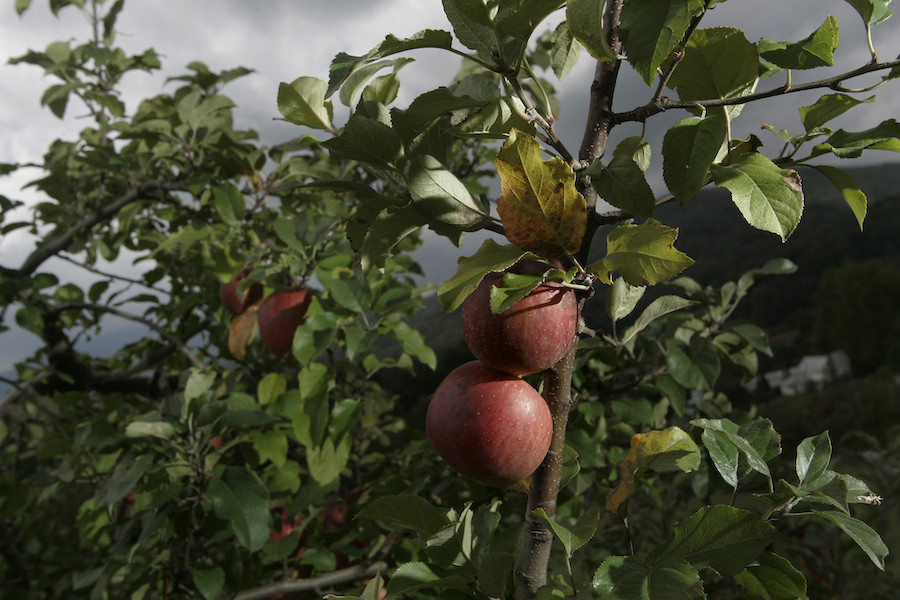 With an October freeze followed by a relatively balmy December capped with several consecutive days of subfreezing temperatures, Georgia weather has experienced a few unexpected weather events from autumn into winter. Temperatures at both ends of the spectrum can affect the development of fruit crops during the dormant season, including blueberries and peaches, which are economically important crops in Georgia.
From apples to strawberries, perennial fruits and nuts need a certain number of cold hours, called chill or chilling hours, during the winter to prepare them to break dormancy for fruiting. The number of required chill hours varies by the type of fruit, as well as by the different cultivars within a fruit species.
For example, citrus fruits require 100 or fewer chill hours to produce fruit. An apple cultivar with a low chilling-hours requirement, such as 'Anna', will begin budding with as little as 200 hours, but an apple variety with a high chilling-hours requirement, such as 'Honey Crisp', will remain dormant until it has accumulated 800 to 1,000 hours of cold between 32 to 45 degrees Fahrenheit.
If the planting zone does not accumulate the requisite number of chilling hours between October and the end of February, fruit plants produce fewer blossoms, resulting in a lower yield of fruit. Alternatively, if the area receives more than the required amount of chilling, the plants may break bud before winter ends. That is one of the reasons that oranges are grown in Florida and apples and blueberries are grown from Georgia to Michigan.
According to the chilling hours calculator on the University of Georgia Weather Network, Elijay, the "Apple Capital of Georgia," accumulated more than 700 chilling hours between Oct. 1 and Dec. 30, 2022. In the southern half of the state, Vidalia, home of the Vidalia onions, accumulated 334 chilling hours over the same period.
Subfreezing temperatures, especially when prolonged, can injure or kill fruit buds. Although chill hours are historically counted at temperatures between 32 and 45 degrees F, Phil Brannen, UGA Cooperative Extension fruit disease specialist, said the deep-freeze weekend that blew through the state could benefit Georgia's peach and grape crops by adding needed chill hours. Extreme cold also helps to kill the bacteria that causes Pierce's disease in grapes — Xylella fastidiosa — as well as the pest insects — sharpshooters — that spread the disease.
The killing cold also benefited the southern half of the state, where cotton, corn and peanuts are major economic crops. Bob Kemerait, UGA plant pathologist, said the extreme cold contributed to the control of several crop pests, including rust fungi, root-feeding nematodes and kudzu.
On the home landscape front, many plants are showing signs of cold injury. Time and patience are the best treatment now and as temperatures return to normal for bedding plants, woody perennials and turfgrasses. "Wait and see" is the advice from UGA Extension horticulture and turfgrass specialists Bodie Pennisi and Clint Waltz.
Pansies and violas planted in beds have a good chance of recovering, but other seasonal color plants, including perennials like heuchera and dusty miller, may not prove as hardy. Plants in containers and raised beds may not recover either, as the roots were more exposed to freezing than those of plants in the ground.
Turfgrasses are also likely to recover, according to Waltz. Recovery is evidence of green tissue, but homeowners are urged not to apply fertilizer until plants begin active growth.
Perennial shrubs and trees were also affected, especially on young twigs at the edges of the canopy. Resist pruning until closer to spring when the damage can be assessed, said Pennisi, adding that the damaged twigs could provide protection to the rest of the plant if there is another freeze event.