Last week was another exciting week in agriculture in Colquitt County. The peanut harvest and cotton defoliation is coming to an end. Colquitt County is classified as abnormally dry according to the last drought monitor. This is great for cotton and peanut harvests, but livestock producers are struggling with planting winter annual forages. The crop progress for the week ending 10/30/22 is below.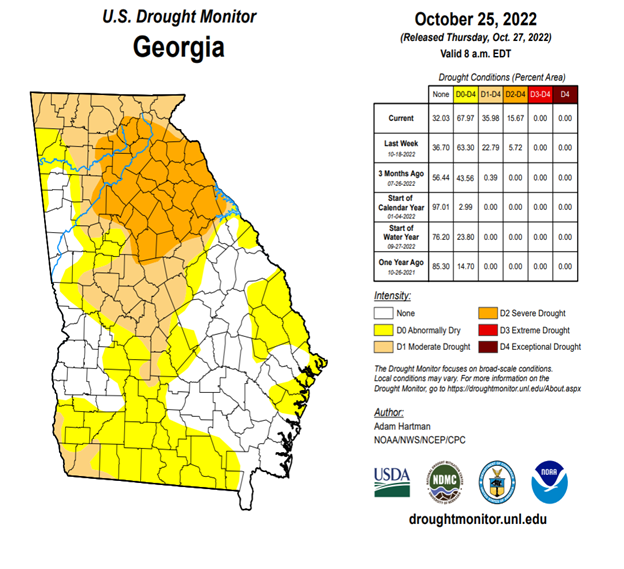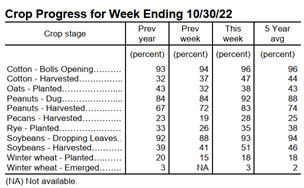 The national drought monitor shows that dry conditions are spreading across the nation. This is impacting the water levels in the Mississippi River. This article from the Southern Ag Today discusses the logistical impacts of the low water levels in the Mississippi River and the effects on the grain market.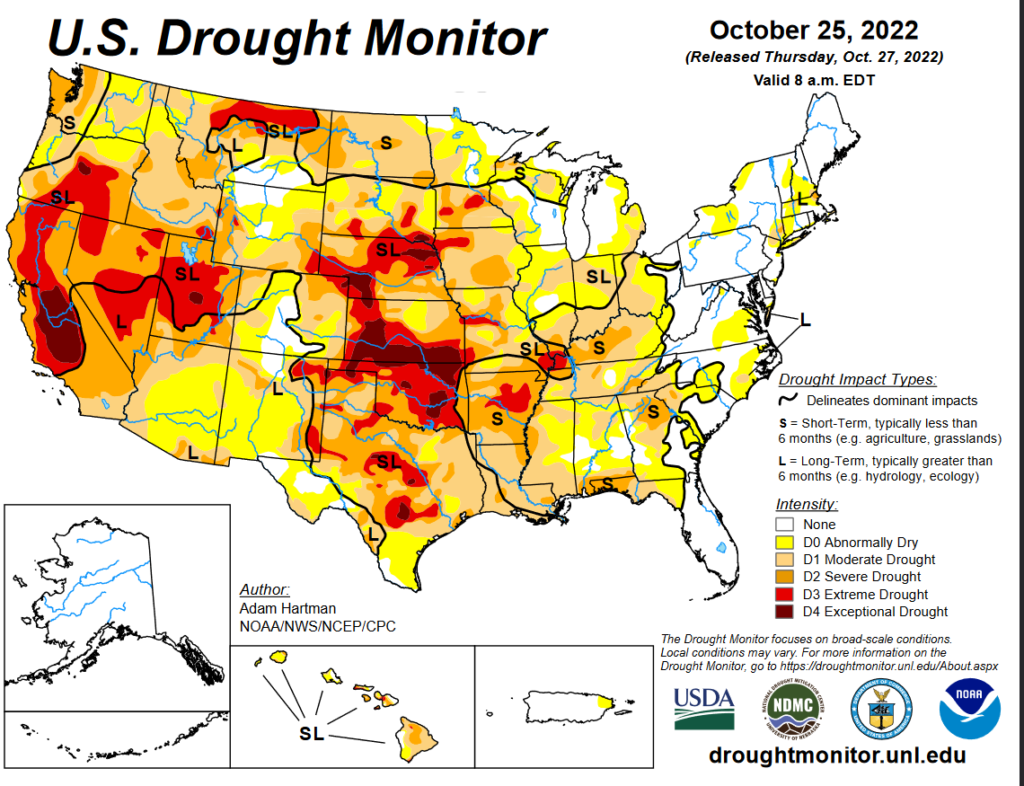 November 2022 is expected to be warmer and drier than normal, causing an expansion of drought (Pam Knox, UGA Climatologist)
After a dry October, producers have been hoping for a return to wetter conditions. However, the final outlook for November 2022 shows a better than even chance of warmer and drier conditions than usual for the month. This means that drought is likely to expand and deepen and expand across the region over the next few weeks This is not good news for those trying to feed cattle or plant small grains. I've received a number of calls and emails discussing the low pond and stream levels and the dry pasture conditions as well as the lack of hay due to the dry June, very wet mid-summer, and dry fall, which has made it difficult to produce much quality hay for the winter. READ MORE
Below is another drought related article from the Southern Ag Today called Small Grain Pastures
Wheat and other small grain grazing is an important source of demand for calves every Fall. Fewer cattle will likely be grazing on small grain pastures this Winter due to poor plant establishment caused by drought. The January 2022 USDA-NASS Cattle report indicated 1 percent fewer cattle grazing on small
grain pastures in Kansas, Oklahoma, and Texas last winter. Many producers from the Southern Plains (Kansas, Oklahoma, and Texas) have already early weaned and sold their calves due to the drought. Lower winter wheat forage production this year will reduce cattle demand from other Southern states. READ MORE.
Cotton Defoliation: Below are a few words from Dr. Camp Hand, UGA Cotton Agronomist, on the current defoliation situation.
As we are nearing the finish line for the season, many are trying to decide, "When are we going to finish spraying cotton?" Great question, and the forecast has changed quite a bit since my last email and conversations with many of you. It looks like highs will remain in the 80s for the next 10 days or so, making this decision complicated. Normally, I would say let's go ahead and pull the plug on November 1… but the temperatures will allow the crop to progress a little further if it isn't ready yet, and we will still get good activity out of our defoliants with highs in the 80s, lows in the 50s. I would evaluate crop maturity on a case by case basis over the next 10 days, but if someone were to decide to pull the trigger a little early this week I would not argue with them.
In terms of the impacts of the frost, it seems like the biggest impacts were in the middle GA area and North. I have heard about some bolls with the rotten smell and frost damage on the outside of bolls. Those bolls are done for. Too, keep in mind that the subtending leaf (the leaf connected to the fruiting site on a fruiting branch, pictured below) provides 60% of the necessary photosynthates to fill a boll out to maturity. So, if that subtending leaf was damaged by the frost, it is likely that the associated boll won't mature. Keep that in mind as you evaluate frost damaged fields and make a determination on when to pull the trigger.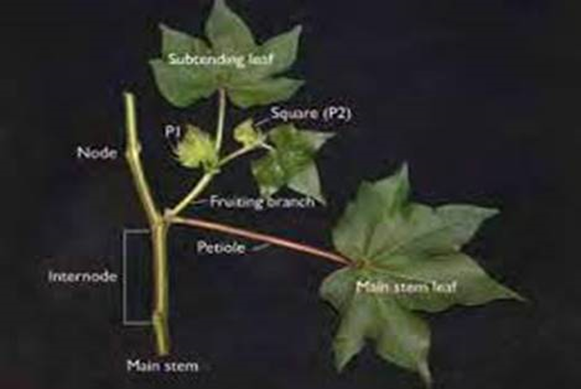 The UGA Peanut Team has shared the link for this week's episode the All About the Pod Podcast. The University of Georgia's peanut physiologist, Dr. Pilon, gives her perspective on the complex situation with grade and yield. Enjoy!!
Anchor: https://anchor.fm/macie-wheeler1/episodes/Episode-5—October-Frost–Grade-and-Yield-Decline-e1pj4c6
Spotify: https://open.spotify.com/show/3JSXq7ZTzhTVPUfUD8YxwR
Apple Podcasts: https://podcasts.apple.com/us/podcast/all-about-the-pod/id1638194766
2022-23 Wheat Production Guide.
There seems to be some interest in producing wheat this year. The updated wheat guide is below and topics that are discussed includes varieties, fertility management and budgets.
Preparing for the 2023 Wheat Production Year
When preparing for the upcoming wheat season please account for the following
considerations:
1. Remember, wheat responds best to some form of deep tillage. Preparing land well
in advance of planting allows for timely seeding once conditions are right for
germination. Try to coordinate planting with rainfall events to ensure adequate soil
moisture and maximize emergence. Optimal wheat planting windows in Georgia are
generally within one week before or after the average first frost date for a given
region.
2. Fall tillers account for approximately 85% of wheat yield potential. Therefore, a
portion of your nitrogen fertilizer (approx. 15-40 lbs, dependent on previous crop)
should be applied at or shortly after planting to support fall tiller production.
3. Choose varieties with good disease resistance, stalk strength, and yield potential for
your area. Pay close attention to resistance ratings in variety characteristic tables if
fusarium head blight (FHB) is a concern, as resistance is limited in current varieties.
Weather conditions during the flowering stage are the key controller of FHB
occurrence in wheat.
4. Starting with a weed-free seed-bed and be prepared to control weeds early. Timely
planting allows for early herbicides applications to maximize weed control.
5. Scout early and scout often. Watch for bird cherry-oat aphids, which are the primary
vector of Barley Yellow Dwarf Virus (BYDV). To help prevent BYDV infections,
consider insecticide applications should when aphids reach threshold.
UGA Wheat Production Budgets
The 2022- 2023 Wheat Production Budgets are available from Amanda Smith, UGA Ag Economist. Asumptions for both of the budgets include $1.07 per unit for N, $0.82 per unit for P, and $0.78 per unit for K. The price of fuel is assumed to be $4.50 per gallon. These budgets are in a spread sheet format, so they can be changed based on your farm.
Dr. Phillip Roberts, UGA Cotton Entomologist, sent me the updated white fly sticky trap captures from last week. He sends workers every Tuesday to check traps that are located in Tift, Colquitt, Cook, and Worth Counties. The whitefly populations seem to be trending down, which is a good thing.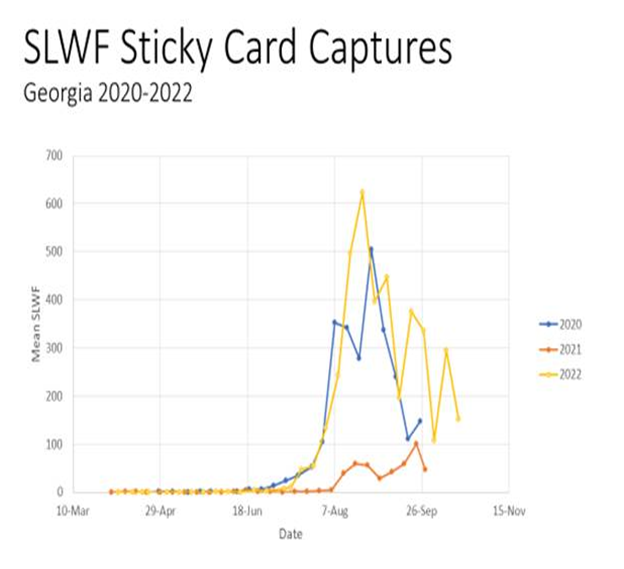 What else went on last week? Last week was busy. The Colquitt County Extension Peanut Variety Plot was harvested early last week. We would like to thank the Moss Family Farms for hosting this plot. Varieties that were evaluated this year included Georgia 06G, Georgia 20VHO, Georgia 18RU, AUNPL 17, Florun 331 and results will be available soon.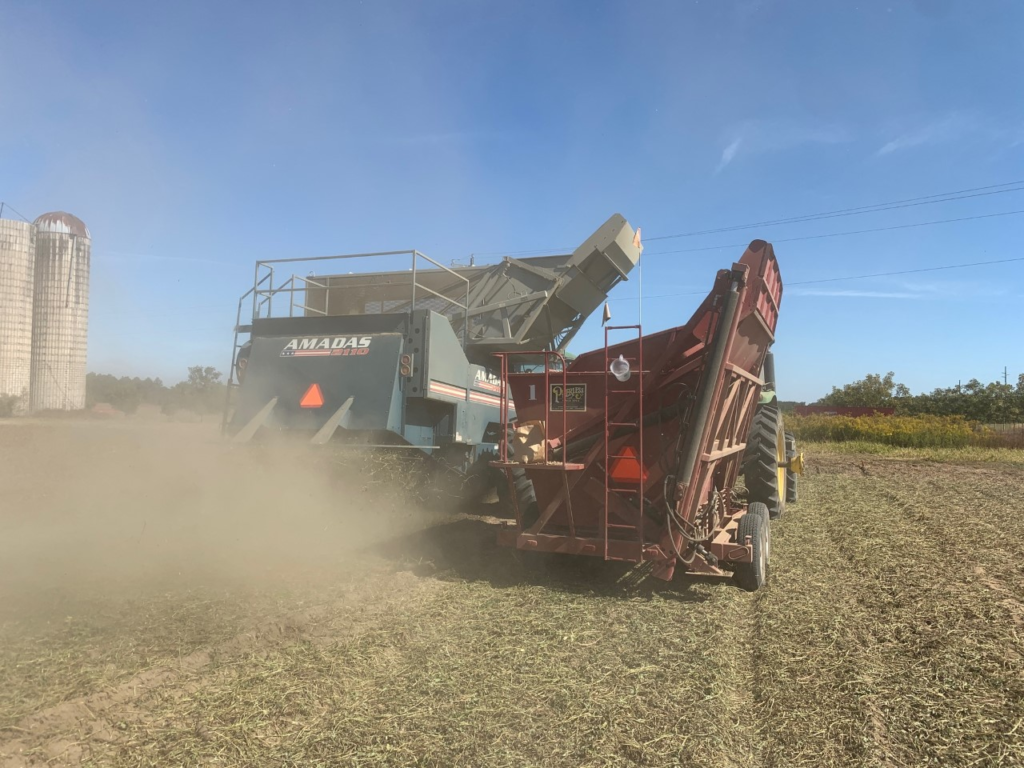 A Beef Quality Assurance Training was held last Tuesday night at the Colquitt County Extension office during the Colquitt County Cattlemen's Meeting. Dr. Angie Mcdaniel, UGA Veterinarian, conducted the training. This training can also be taken online at https://www.bqa.org/ If you would like more information, please contact your local county Extension agent.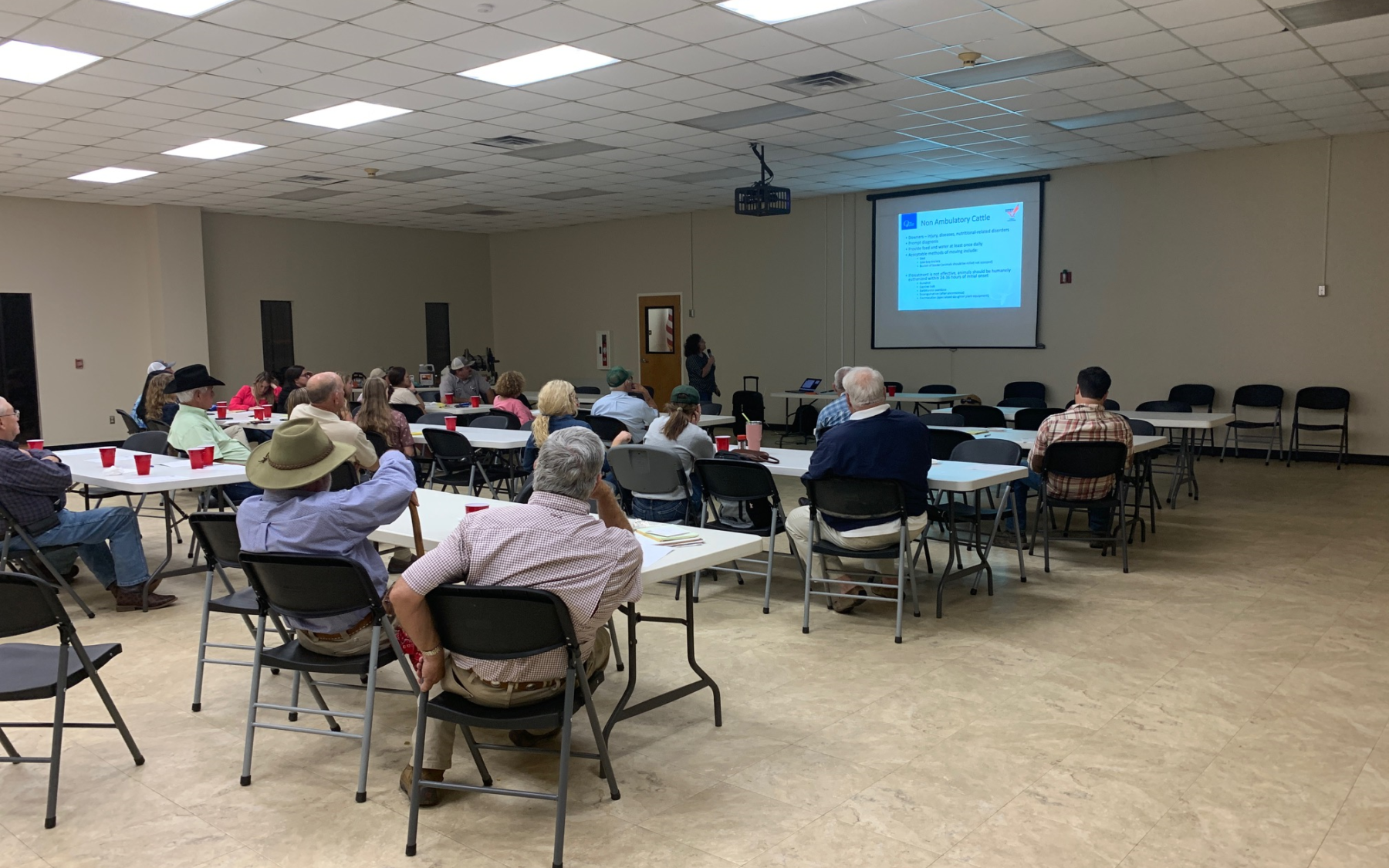 If you have questions please contact the Colquitt County Extension office.
Have a great week,
Jeremy M. Kichler
Colquitt County Extension Coordinator