Colquitt County Cotton Defoliation and Peanut Harvest Meeting will be held on September 6, 2022 at noon. The meeting will be held at the Colquitt County Extension office in Moultrie. Drs. Camp Hand and Scott Monfort will be the keynote speakers.
Cotton: Whitefly has been the topic of discussion again this week. The cotton crop ranges from 3rd week of bloom to open boll. Growers are treating for whitefly, and stinkbugs if the weather allows. Showers have been common this past week making these applications a challenge.
I have received a question or two about late season stinkbug thresholds in cotton. According to the UGA Pest Management Handbook, the threshold for stinkbug is 20% during weeks 2 to 6 of bloom, and 30% (+) during weeks 7+ of bloom.
Dr Phillip Roberts, UGA Cotton Entomologist, educated county agents on whitefly management in cotton yesterday during a zoom update (August 12, 2022). The slide below illustrates how to manage risk when dealing with whitefly. High risk factors for Silverleaf Whitefly (SLWF) include planting hairy cotton varieties, June planting dates, cotton that is near SLWF infested crops, and hot dry conditions. Growers, consultants, and county agents can use these risk factors to make sound IPM decisions for SLWF management in cotton.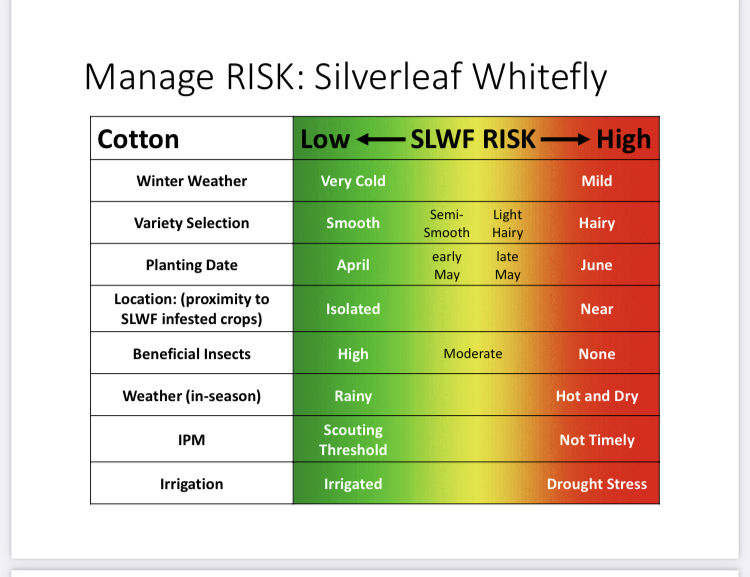 What is the rainfast of whitefly insecticides? Dr. Roberts has provided the information below about rain fastness of SLWF insecticides. If you have any questions please contact your local county Extension agent.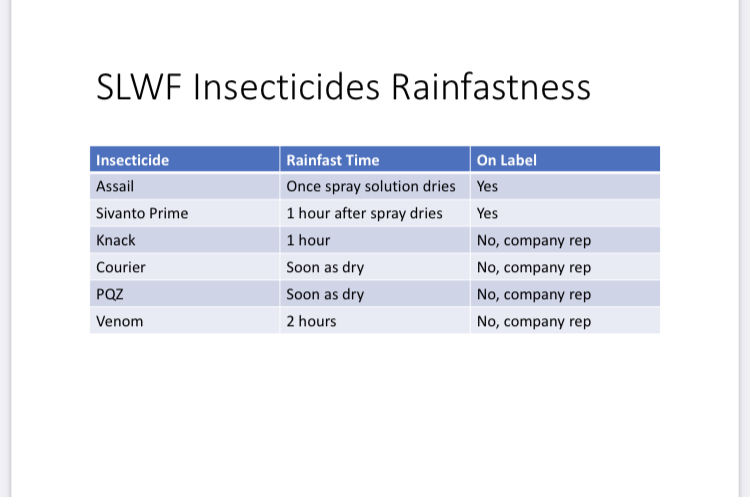 What is the difference between whitefly insecticides? The table below shows how safe whitefly insecticides are on beneficial insects, length of possible whitefly control and which life stages are affected. The control interval depends on rate, application timing, pest pressure and how many beneficial insect populations.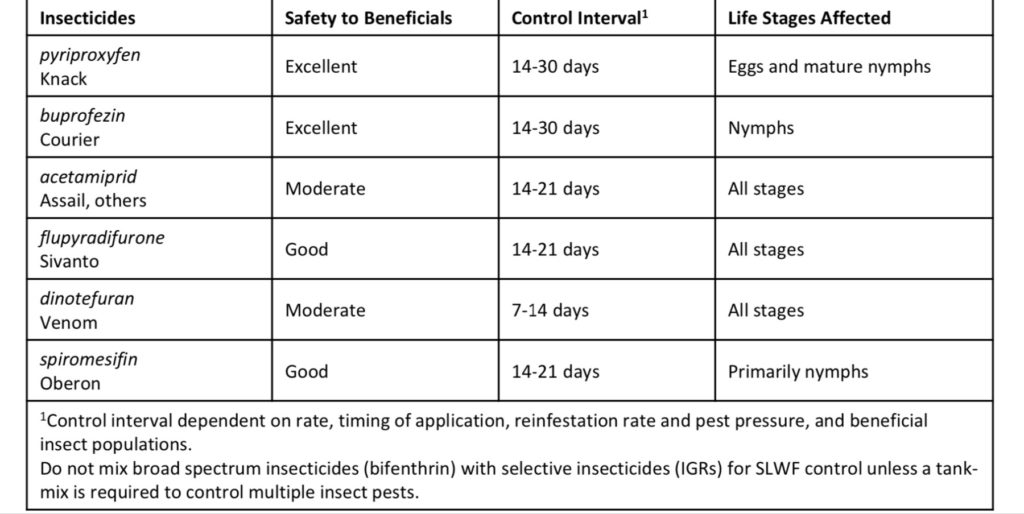 Peanuts: The majority of the area peanut crop ranges from 90 to 110 days old. I have been getting reports of low numbers of velvetbean caterpillars, loopers and other caterpillar pests. Scouting and treating at threshold remains the best strategy for managing caterpillars. The treatment threshold for combined foliage feeders is 4–8 per foot of row depending on the size and condition of the peanut plants. Use a lower threshold for very young plants or plants that are stressed from other factors. Use a higher threshold for healthy plants with ample vine growth.
According to Dr Mark Abney, UGA Peanut Entomologist, Dimilin remains a very good choice for velvetbean caterpillar, but it is not effective against loopers even with good coverage. Loopers tend to feed low in the canopy (especially at first). It is difficult to get insecticides down in the canopy, and many control problems with loopers and "premium products" can be linked to application and coverage issues. If you have questions about insect management in peanut please contact your local county agent.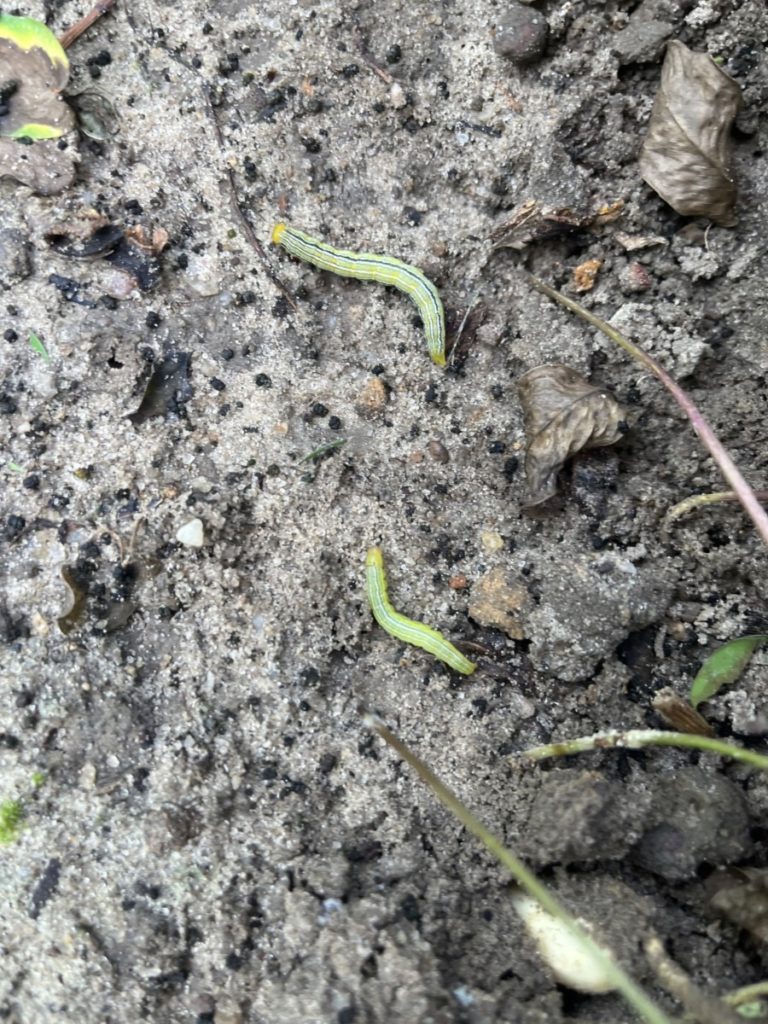 Corn: Corn harvest is in full swing and one thing to keep in mind is post harvest week control. Last year, Dr. Prostko, UGA Weed Specialist, provided information on this subject.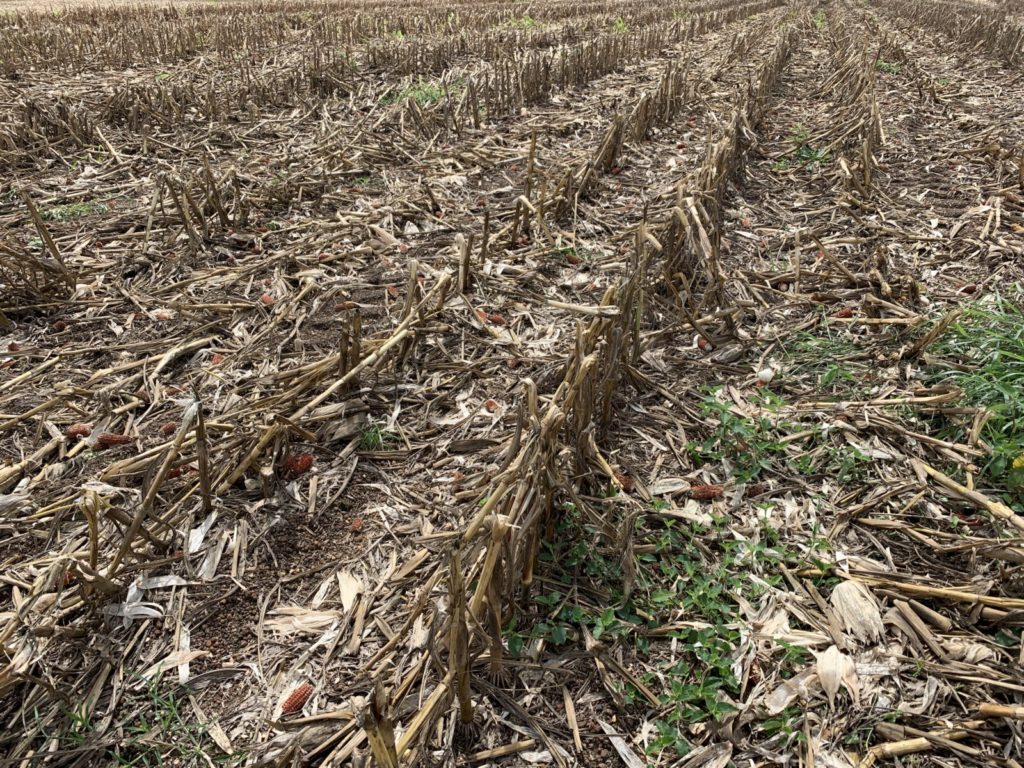 White things on my soybeans?
This week a retailer sent me this picture of white objects on soybeans. The white growth is a fungus called Beauveria bassiana (white muscadine disease), which infects kudzu bugs. The fungus should keep kudzu bugs below economic thresholds.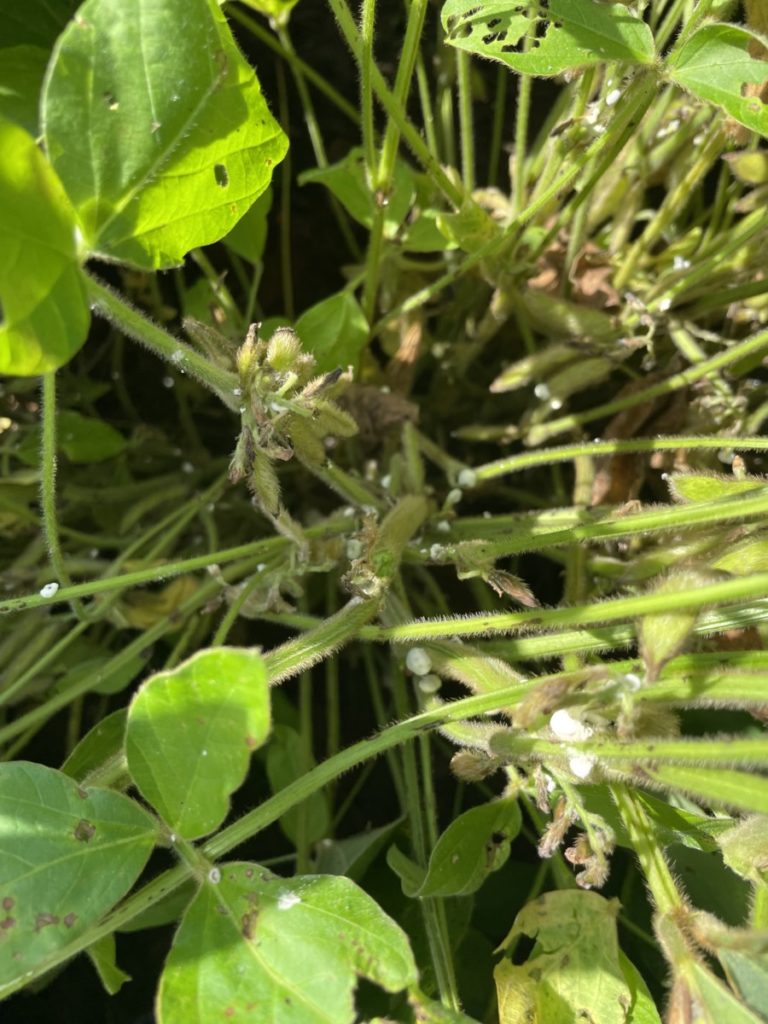 I received a question or two about a blog post from Dr. Stormy Sparks, UGA Vegetable Entomologist. The post was from the UGA Vegetable Blog (August 1, 2022) and it was titled Possible Resistance to Coragen in Beet Armyworm. It is also below. If you have any questions please contact your local county agent.
We have received reports from cowpea and peanut fields of beet armyworm surviving applications of chlorantraniliprole (Coragen, Prevathon, Vantacor, Besiege). While this does not mean we have resistance, it is an indication that we should be cautious with applications of these products and definitely switch chemistry if you suspect a field failure with the first application. The cowpea field in question was treated multiple times with products containing chlorantraniliprole (Besiege and Coragen) and still had high populations of beet armyworm larvae. We collected 50 larvae and held them on foliage collected from the field and 43 were still healthy three days later.
Does this mean to avoid applications of products containing chlorantraniliprole? NO. We do not know if this is truly a resistance problem, and if it is we do not know how widespread it may be. Simply be aware that this MAY be a problem and if you suspect a control failure switch chemistry (away from any Group 28 insecticide) for any repeat applications.
Have a great week and if you have questions please contact your local county Extension agent.
Jeremy M. Kichler
Colquitt County Extension Coordinator