It has been an interesting week in Colquitt County. The weather pattern seems to have changed and rain chances have increased. Below are the rainfall totals for the past week in Colquitt County.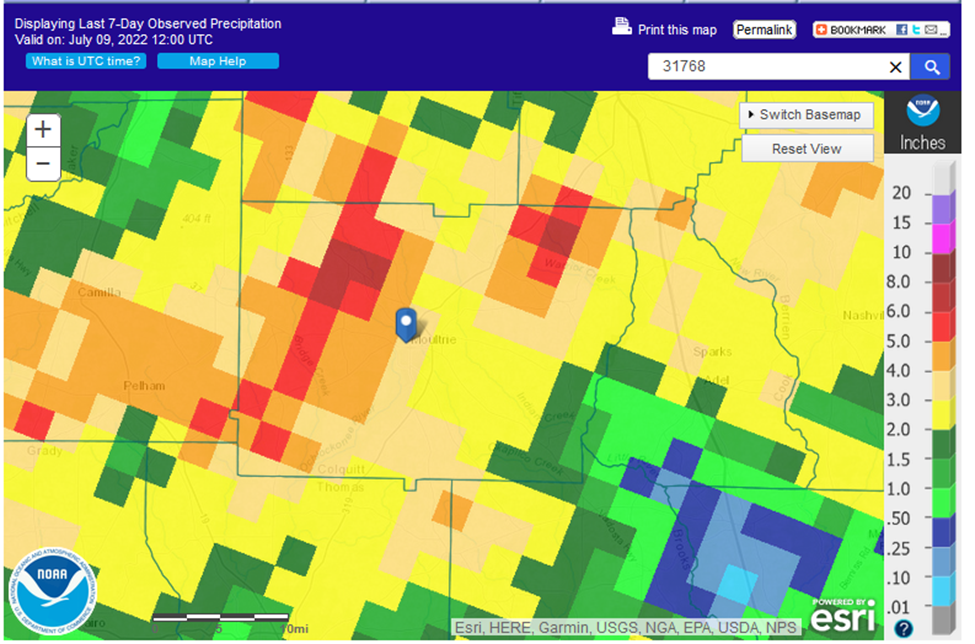 The CoCoRaHS website illustrates rain fall totals from Colquitt County from the last seven days (7-3-22 to 7-9-22). Rainfall totals range from 2.79 to 6.53 inches. If you are interested in more information about CoCoRaHS please go to their website.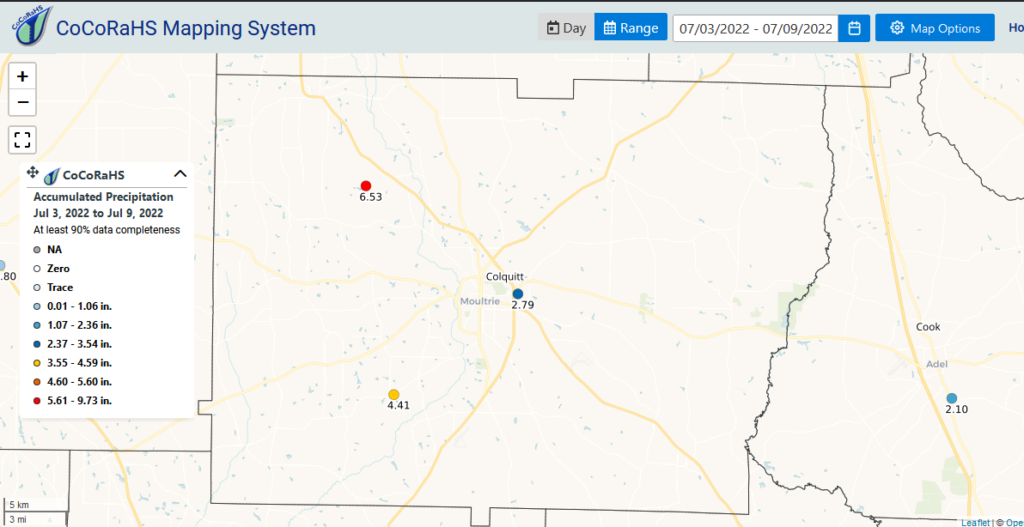 The updated US Drought Monitor is below. It was released on July 7, 2022.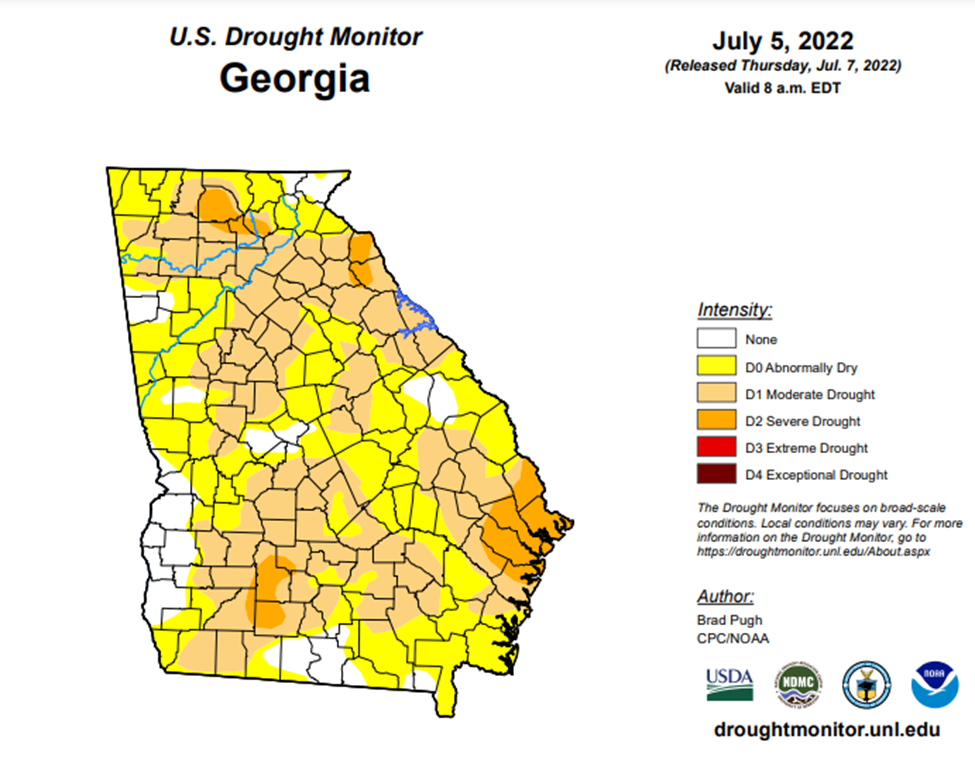 Cotton: The cotton crop ranges from 1 leaf to the 2nd week of bloom. The aphid fungus was first seen on July 1st and it has been building around the county over the past week. White fly populations are being noticed in some fields. Stink bug applications will be going out in fields that are reaching the third week of bloom. I have been getting questions about PGR applications.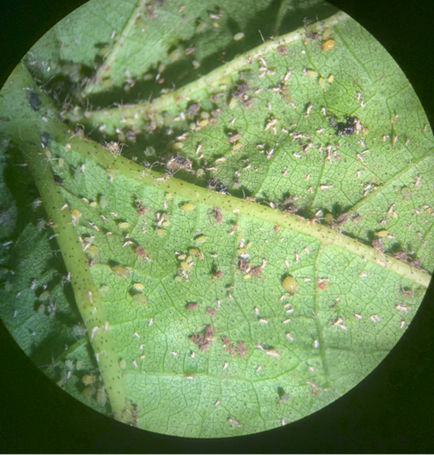 Stinkbug Management (Phillip Roberts): Southern green and brown stink bugs are the two most common stink bugs infesting Georgia cotton. Based on stink bug populations in corn and reports of early planted cotton, stink bugs are likely to require management in many fields. Stink bugs have sucking mouthparts and prefer to feed on developing seeds in medium sized bolls. In addition to physical damage to the seed which impacts lint production, stink bugs may also introduce boll rot pathogens or create a wound on the boll which allows for pathogen infection. The most reliable indicator for stink bug injury is the presence of callous growths or warts on the inner boll wall and/or stained lint. Callous growths associated with feeding will form in less than 48 hours. As bolls mature and open, damage often appears as matted or tight locks with localized discoloration that will not fluff. Severely damaged bolls may not open at all. Research also suggests that in addition to yield loss, excessive stink bug damage can reduce fiber quality. The best method for scouting stink bugs is to sample bolls which are the diameter of a quarter, ideally, we would like to sample one boll per acre in a given field. It is extremely important that bolls the diameter of a quarter (approximately 12 days of age) are sampled as these are the preferred feeding size. If larger bolls are sampled we are not sure when the damage occurred. Burst sampled bolls between your thumb and forefinger and peal the boll examining the inner boll wall for callous growths and staining. Bolls which have not been damaged by stink bugs will be creamy white and smooth. The three boll pieces on the bottom left of the photo are NOT damaged, whereas other pieces have been fed on by stink bugs. After examining all bolls for feeding injury calculate a percent of bolls with internal damage. During the first 7-10 days of bloom sample the largest boll available even if not the diameter of a quarter. If stink bugs feed on small bolls they may shed from the plant, so be sure to watch early boll retention. Small bolls damaged by stink bugs will be jelly-like inside.
A dynamic threshold which varies by the number of stink bug susceptible bolls present is recommended for determining when insecticide applications should be applied for boll feeding bugs. The boll injury threshold for stink bugs should be adjusted up or down based on the number of susceptible bolls present. Use a 10-15% boll injury threshold during weeks 3-5 of bloom (numerous susceptible bolls present), 20% during weeks 2 and 6, and 30% (+) during weeks 7(+) of bloom (fewer susceptible bolls present).
When selecting insecticides for stink bug control it is important to consider other pest such as whiteflies, corn earworm, aphids, or mites which may be present in the field. The objective is to control stink bugs but also to minimize the risk of flaring other pest which are present. A couple of bullet points below to consider when selecting a stink bug insecticide:
• Consider week of bloom and use the dynamic threshold.
• Pyrethroids provide good control of southern green stink bug but only fair control of brown stink bug (increased pyrethroid rates improve control of brown stink bug and bifenthrin generally provides greater control of brown stink bug compared with other pyrethroids).
• Determine ratio of southern green to brown stink bugs, organophosphates provide better control of brown stink bugs compared with pyrethroids.
• If whiteflies are present, use bifenthrin and avoid dicrotophos during weeks 2-5 of bloom.
• If corn earworm is present consider using a pyrethroid if brown stink bugs are low or using a pyrethroid tank mixed with a low rate of an organophosphate if brown stink bugs are most common.
• If aphids are present, include dicrotophos and avoid acephate if an organophosphate is needed.
• If mites are present, avoid acephate if an organophosphate is needed.
I have been getting questions about morningglory, spiderwort and grass control in area cotton fields. Below are a few words from Stanley Culpepper on this subject.
Nutsedge, morningglory, spiderwort and grasses continue to gain ground in many cotton fields!
(Stanley Culpepper): Without question, the Roundup + dicamba system has been extremely valuable to
cotton producers throughout Georgia. Although the technology has provided many benefits to our farms,
one of the greatest negatives is becoming very evident where these herbicides are relied upon too heavily.
As a result, complaints regarding nutsedge, morningglory, spiderwort, and grasses have risen drastically.
This result is primarily a response to timeliness, or lack thereof, and also by making the last herbicide
application overtop of the cotton where the spray covers the crop but does not effectively contact emerged weeds hiding under the cotton or contact the soil providing residual control.
Layby applications will improve spray coverage of emerged weeds and the soil resulting in much better
weed control, less cotton injury, and greater long-term farm sustainability. Diuron + MSMA (best for
pigweed) or Roundup + diuron (best for grasses, 2nd best on pigweeds) are effective options. Add Envoke to improve morningglory and nutsedge control. For spiderwort, add Dual Mag, Outlook, or Warrant. Valor, Caparol, and Cotoran are also useful tools to be considered in a directed system.
Peanuts: Lesser corn stalk borer (LCSB) has been the topic of conversation among growers, retailers and consultants. Below is an example of LCSB from a dryland peanut field that I found yesterday (7-8-22) before the monsoon occurred that evening. If you would like more information on LSCB please go to this blog post.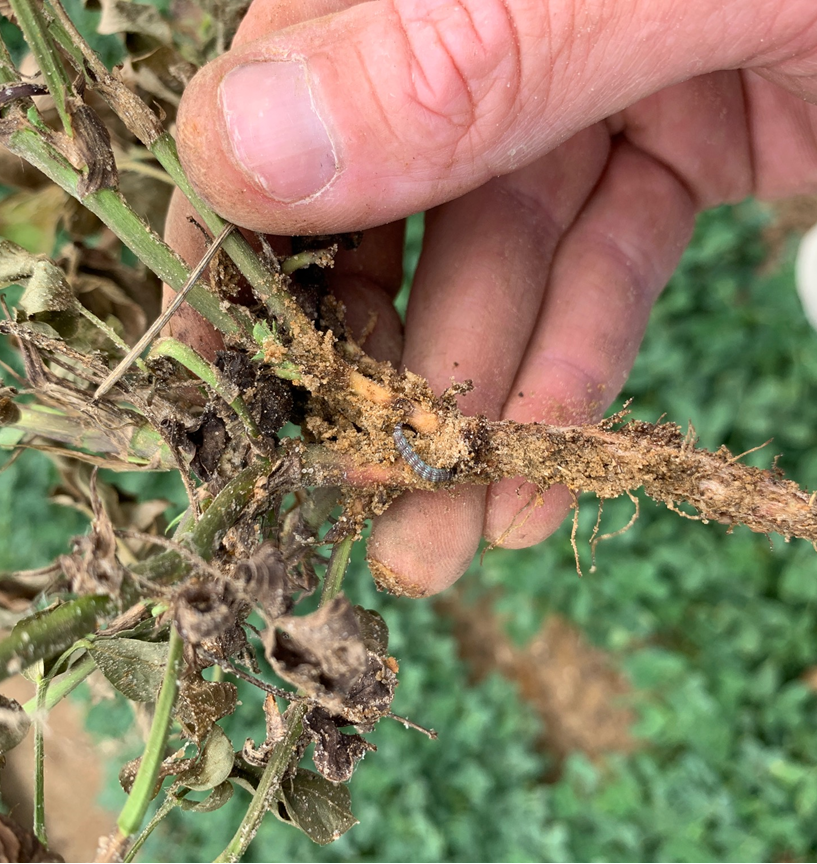 White mold: According to Dr. Bob, note the thin, wispy development of the white mold pathogen Sclerotium rolfsii at the crown of the plants and on defoliated peanut leaves. The "white mold match" is struck and smoldering in these fields and fungicides are needed to slow the development of the disease. Hot days, warm nights, and high humidity are PERFECT for white mold. This is Not the time to be timid with disease management.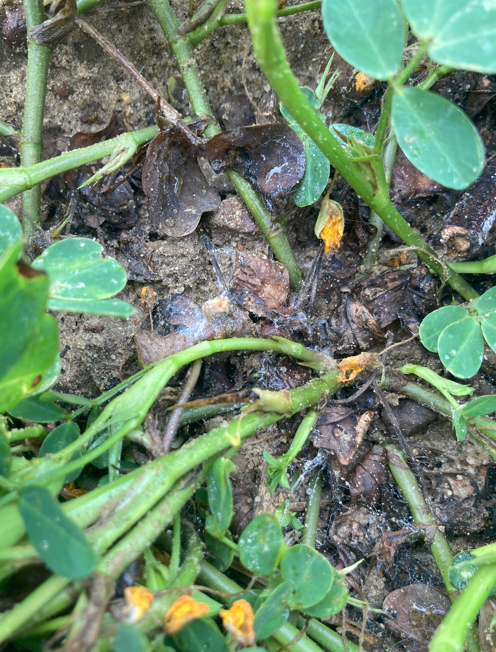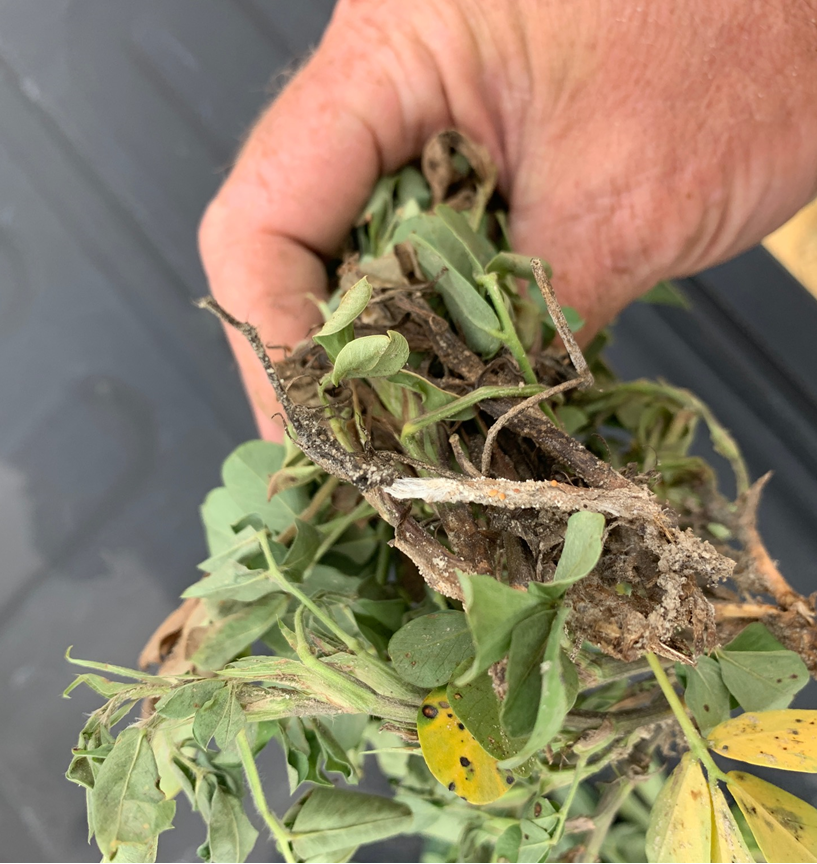 Leaf spot on peanut– under very hot and dry conditions, peanut leaf spot diseases are less of a threat. Growers may be able to delay fungicide applications by a few days in extreme heat and dry weather, but should be prepared to pick 14 day schedule back up when rain returns.
If you would like information on peanut fungicide programs please go the UGA Peanut RX.
Corn: The corn crop in Colquitt County ranges from dough to 3/4 milk line. The recent rain has been a blessing for corn growers in the area., making corn irrigation termination easier. Corn irrigation needs to be terminated when the crop reaches black layer stage of development. Early irrigation termination on corn is a common mistake and it can hurt your yield depending on when you cut the water off. Although kernels outwardly appear mature and corn water use begins declining at the dent stage, this is far too early to terminate irrigation. Potential kernel weight is only about 75% complete at the dent stage. Thus, termination of irrigation at the dent stage can reduce grain yields as much as 15-20% when hot, dry conditions persist. Early irrigation termination will also likely reduce stalk strength and promote lodging, because plants will cannibalize energy from vegetative organs to fill kernels when they are stressed. So water corn until black layer… Below is a chart of irrigation requirements for corn from UGA Corn Production Guide. Please notice how corn water requirements decrease after dent stage of development.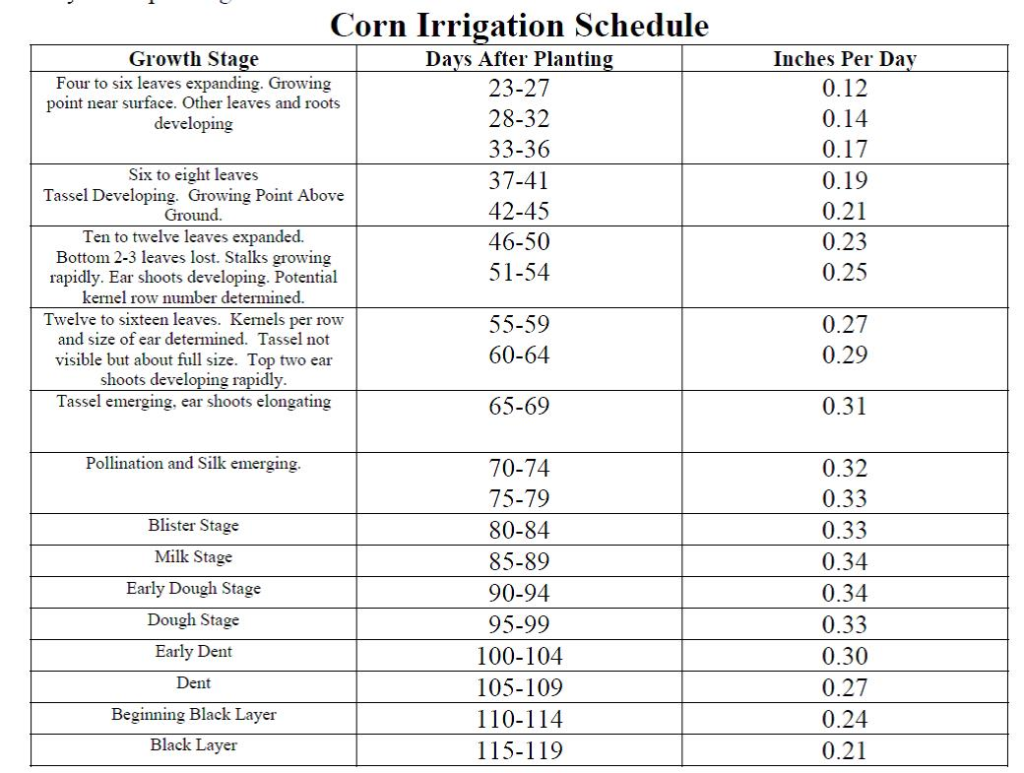 I have been receiving questions about checking milk line in corn. Corn kernels mature from the outside-in when hard starch forms beginning at the top of the kernel at dent and steadily progresses towards the base of the kernel (where it attaches to the cob). This final stage of grain development normally takes about 20 days to complete. The most reliable method for you to monitor kernel maturity for irrigation scheduling purposes is to observe this progression of the milk-line (or hard starch layer) between dent stage and black-layer or physiological maturity. The milk-line is more relevant than the black-layer, because it indicates maturation progress, before the black layer is evident. The milk-line is the borderline between the bright, clear yellow color of the hard seed coat outside the hard starch, compared to the milky, dull yellow color of the soft seed coat adjacent the dough layer. To observe the milk line, break a corn ear in half and observe the cross-section of the top half of the ear (the side of kernels opposite the embryo). If you have difficulty seeing this color disparity between layers, you can find it by pressing your fingernail into the soft, doughy seed, starting at the kernel base and repeating this procedure progressively toward the tip, until you feel the hard starch. The photo below shows about 1/2 milk line.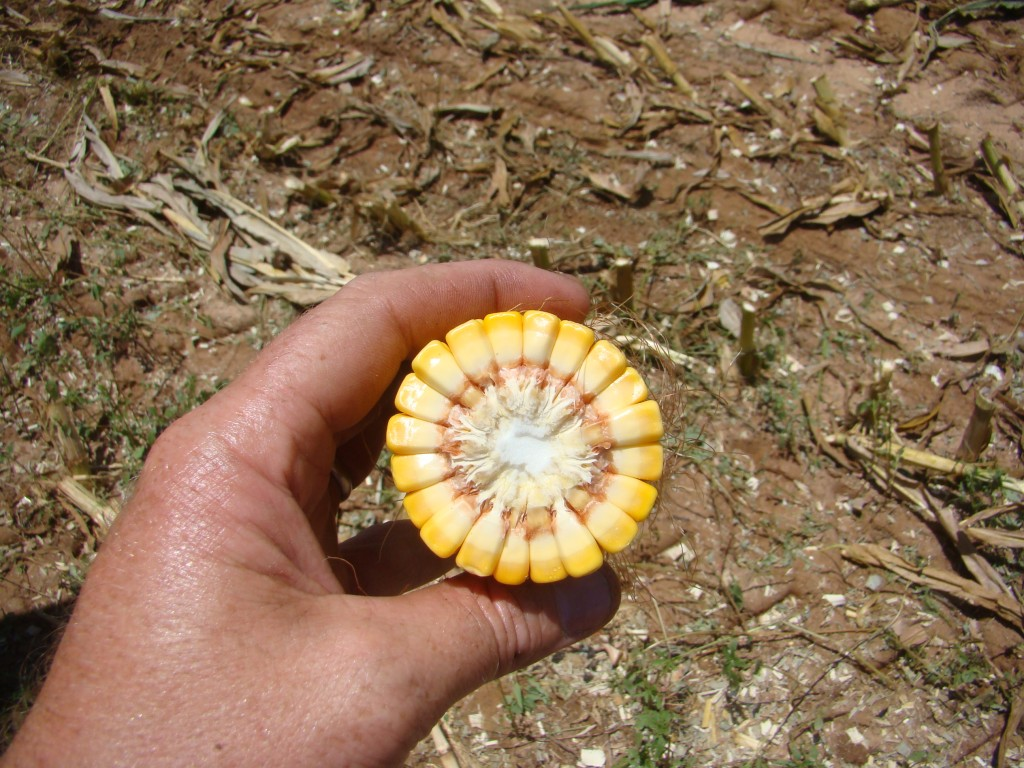 If you have questions please contact your local county Extension agent.
Jeremy M. Kichler
Colquitt County Extension Coordinator