Current Situation: Cotton and peanut planting has begun in the area. The forecast for the next few days includes highs in the 80's and lows in the 50's and 60's and dryer conditions. The corn crop ranges from V1 to V6 and is growing quickly. Growers are starting to irrigate both corn and wheat. The wheat crop ranges from the anthesis to milk stage of development.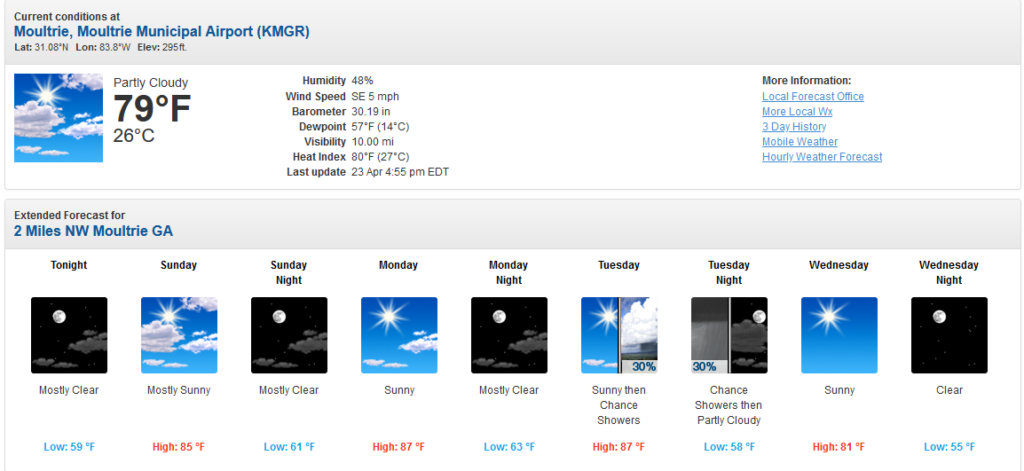 Peanuts: According to Scott Monfort, peanut acreage has remained above 700,000 acres for several years causing growers to plant a portion of their peanuts in April. This is not an issue as long as growers understand the risks of planting early. Weather is one of the most important factors that can negatively impact stands when planting early. Remind producers to monitor soil temperature closely over the next two to three weeks. The UGA recommendation is for the average four-inch soil temperature to be above 68 for several days (3+ days) and there is no forecast for an approaching cold front. Below is the 7 day summary from UGA Weather Station from the Sunbelt Ag Expo. The 4 inch soil temperature ranges from 68 to 74.8 degrees.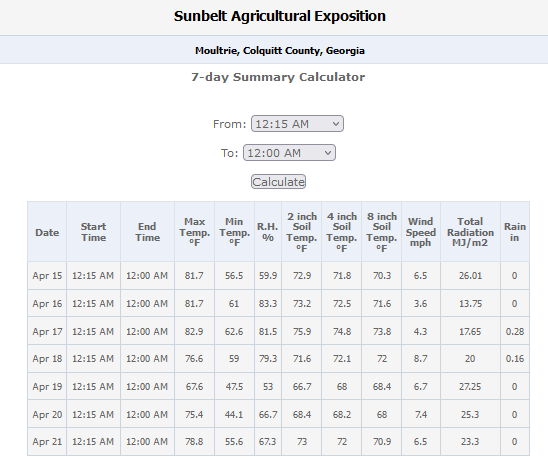 Tomato Spotted Wilt Virus (TSWV) is another important risk factor to take in into consideration when planting in April. Although all varieties have some resistance to TSWV, GA-12Y, TifNV-HIOL, and GA-14N have the highest level of resistance to the virus. This does not mean you cannot plant other varieties in April. However, planting a more susceptible variety in April means a grower will need to lean more on the remaining recommended practices in the Peanut RX to aid in reducing the risk of TSWV like plant twin row, use recommended seeding rates to ensure 4 + plants per foot of row is achieved, apply Thimet in-furrow, etc. If your risk is high for TSWV based on the Peanut RX, I would avoid planting GA-18RU, GA-09B, TUFRunner 511, and Florun 331 and in April. Other than soil temperature and TSWV risk, growers need to monitor soil moisture in the top 3-4 inches of the soil profile. Seed should be planted 2-2.5 inches deep and you want at least an inch of moisture above the seed. DO NOT plant seed 3 inches or deeper chasing moisture. All you will do is increase your potential of stand loss and increase the risk of TSWV as a result of erratic emergence. If moisture is a limiting factor, make sure growers know the importance of adding moisture before they plant. They run the risk of shocking the peanut seed if they plant into dry soil and then add moisture afterwards, especially in hot conditions. This will also cause emergence to be erratic which increases your risk of the virus.
Finally, remind your growers "UGA doesn't recommend the use of in-furrow fertilizers for peanut". Our research has shown a 20 – 40 % reduction of stands with the 2-3 gal/A rate of fertilizers applied infurrow with the seed. We have also observed a delay in emergence of 3-5 days with rates between 0.5 and 1 gal/A. Growers need to understand the risks of using these types of products.
Seed Quality Based on information from the Georgia Department of Agriculture's Seed Laboratory in Tifton, this year's peanut seed quality is very good. This is not to say there won't be an occasional situation where seed quality might be less than expected. With this in mind, growers need to also know the germination % of each lot of seed they purchase. This way, they can adjust seeding rates appropriately. UGA recommends planting 6-8 seed per foot in order to achieve at least 4 uniform plants per foot of row. Planting more than 7 seed/ft on singles can increase seed rot. Remind them that when they purchase seed and take possession of the seed they must keep it in a cool, dry, well ventilated location until planting.
Checklist to Start the Season By Bob Kemerait
It is nearly time to begin planting our 2022 peanut crop. Growers are reminded that many important opportunities for successful disease and nematode management occur at the beginning of the season. Growers are advised to consult the 2022 Peanut Rx (available online at www.peanutrx.org, in the UGA Peanut Production Update, and in Peanut Rx cards from a number of chemical companies) to better understand the risk they face to leaf spot, white mold, and Tomato spotted wilt disease in each field and steps that can be taken to reduce this risk.
Varieties: Though 'Georgia-06G' remains the most widely-planted variety again in 2022, growers are encouraged to plant other varieties as well. In careful selection of varieties in addition to Georgia-06G, growers can capitalize on the disease and nematode resistance found in newer varieties. For example, 'TifNV-HiOL' is nearly immune to the peanut root-knot nematode and 'Georgia-12Y' has better resistance to white mold than does Georgia-06G. Growers should strongly consider planting more resistant varieties in addition to the Georgia-06G they will plant.
Bottom line: Planting TifNV-HiOL eliminates the need for use of nematicides to protect the peanut crop from peanut root knot nematodes (but not the lesion nematode which can be problematic at times. Using Peanut Rx as a reference, growers can also choose to plant varieties which have improved resistance to Tomato spotted wilt disease, leaf spot diseases, and white mold.
Tomato spotted wilt and Peanut Rx: Tomato spotted wilt can be a serious threat to every field of peanuts every year. I am concerned for the 2022 crop as our warm(er) winter could impact the biology of the thrips that transmit the Tomato spotted wilt virus to the peanut plants. The combination of factors found in Peanut Rx, to include variety, planting date, plant population, and choice of insecticide to manage thrips, has a significant impact on the risk to this disease. Once the furrow is closed, management options for Tomato spotted wilt disease are basically finished.
Seed rot and seedling diseases are a threat to peanut plants in every field. Peanut seed must be protected from a number of fungal pathogens to protect against seed rot. You seedlings need to protected from fungal pathogens as well, primarily Aspergillus niger and Rhizoctonia solani. Environment has a HUGE impact on seed rots and seedling diseases. Planting into cooler and wetter soils increases risk to seed rot and seedling disease caused by Rhizoctonia solani. Planting into hot and dry conditions greatly increased risk to Aspergillus crown rot. To reduce risk to these diseases, growers are encouraged to consider environmental conditions at planting and to delay planting if conditions favor disease. Growers can reduce threat to these diseases by avoiding planting in cool soils and by using irrigation, if available, to cool hot and dry soils. Fungicide seed treatments (preferably Rancona or Trebuset) are a first line of defense to minimize impact of seed rots and seedling diseases. Growers can also use in-furrow products, to include azoxystrobin, Velum, and Proline to protect the crop.
Nematicides are an important consideration for growers who have a problem with the peanut root-knot nematode by who do not plant TifNV-HiOL. Fumigation with Telone II (4.5-6 gal/A) 10-14 days prior to planting is our most effective nematode management option. However, growers can also successfully manage nematodes with AgLogic 15G and with Velum. But these critical management options must be deployed before the furrow is closed.
Use of Proline in-furrow is our best option for management of Cylindrocladium black rot (CBR) and Proline applied in-furrow may have some benefit for management of early season white mold as well. An in-furrow application of Proline is not as effective as a banded application of Proline 3 to 5 weeks after planting; but it should have some efficacy. Again, growers are reminded that many important opportunities for successful disease and nematode management occur at the beginning of the season. Don't miss the opportunity.
Corn: What is this stubby root nematode in corn I keep on hearing about? Stubby-root nematodes, Paratrichodorus (or Trichodorus) spp. are widespread in Georgia. Stubby-root is the most damaging nematode of corn because corn is highly susceptible and these nematodes are so widely distributed in coastal plains soils where much of the corn is grown. These nematodes feed mostly at root tips, thereby stopping root growth. As new root growth continues to be stopped by feeding of stubby-root nematodes, the root system takes on a characteristic "stubby-root" appearance. Affected root tips may be "stubbed" without discoloration or a slight discoloration may be evident. With some plants, usually not of the grass family, the main effect produced is a reduction of root system with no obvious "stubbing." These injured plants exhibit a small root system with fewer and shorter secondary
roots than would have otherwise been present. Above-ground symptoms are the typical symptoms of
nematode damage: stunting, yellowing, and slow growth. Plants are rarely killed by stubby-root
nematodes.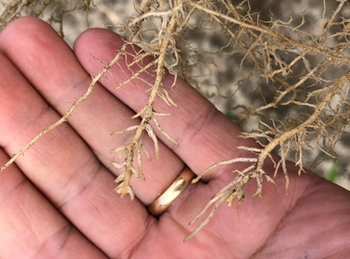 What is the life cycle of this nematode? The stubby-root nematode life cycle is simple, going from egg through four molts to adult without changes in body form except that adults are larger than larvae. The life cycle is relatively short, reportedly ranging from 16 to 17 days at 86 F and from 20 to 22 days at 71.6 F. Populations may increase tenfold in 60 days. The population thus builds up rapidly even in the cooler spring months, making it a serious problem on early-planted, susceptible crops such as corn. The population density may also decline very rapidly. This can make diagnosis rather difficult since peak populations may be missed. It is fairly common that a soil sample for nematode analysis is not taken until after the stubby-root population has declined to low levels. When this happens, the diagnosis is based on the root-system symptoms. For this reason, a root system with symptoms should be sent with the soil sample if stubby-root nematodes are suspected.
What is a host for stubby root nematodes? While stubby-root nematodes have a fairly wide host range, corn and other members of the grass family are the most susceptible hosts. Other plants rated as good hosts include soybeans, cotton, sunflowers, and many vegetable crops. Poor hosts include tobacco and rye. The wide host range makes rotation rather ineffective as a control measure and resistant crop varieties are not available. Chemical control is the most effective approach.
The information above is from UGA Plant Pathology.
How can I control stubby root nematodes? Once you close the furrow then there are no options. According to Dr. Bob Kemerait, UGA Plant Pathologist, below are some recommendations for managing nematodes in corn.
For use of nematicides, from results from my studies:
Under moderate threat from root-knot nematodes, I expect similar yield gains from Counter 20G (5-5.5 lb/A) to Propulse (8.0 fl oz/A) to Velum (3.0 fl oz/A). Yield increases would be in the neighborhood of 10-20 bu/A.
Where threat is from sting and stubby root nematodes, the potential for yield improvement may be as high as 65 bu/A. In such situations, Counter 20G (5.5 lb/A) is some better than Propulse (8 fl oz/A) which is some better than Velum (3 fl oz/A).
Remember: No ALS herbicides with Counter 20G; do not mix starter fertilizers with Velum or Propulse.
How much do I irrigate corn early season? The weather forecast for the next week is dry. Below is the Estimated water use of corn from emergence to V6 stage of development.
Growth Stage
Days After Planting
Inches Per Day
Emergence and Primary Root Developing
0-7
8-12
0.03
0.05
Two Leaves expanded and nodal roots forming.
13-17
18-22
0.07
0.09
Four to six leaves expanding. Growing point near surface. Other leaves and roots development
23-27
28-32
33-36
0.12
0.14
0.17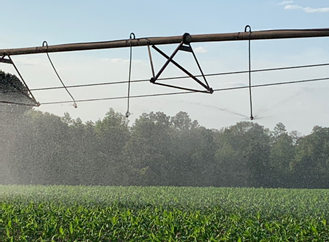 How late is too late to plant corn? Our corn planting window in South Georgia generally runs
from March 1 – April 15. Early planted corn will traditionally out yield late planted corn
regardless of region within the state. Delaying corn planting into the summer can dramatically
decrease yield potential. Generally speaking, yields decline at a rate of ¾ bushels per day as you
progress later in the planting window and can rise to about 2.5 bushels per day when planting
after the optimal window. If corn planting is delayed into the summer yield losses become much
more dramatic. Studies in Tifton indicate that stress and disease tolerant hybrids planted under
irrigation in late May to early-June only yield approximately 50% of mid-March to early-April
plantings. Dr. Dewey Lee, Retired UGA Grain Agronomist, mentions that some of today's hybrids are earlier with better disease resistance. Given modern day hybrids and fungicides, we can make better yields planted late than years ago. Late planting just moves through the growth stages fast due to maximum GDD accumulation on a daily basis during the vegetative phase and therefore tends to limit our yields to about 50 to 70% of early planting (if protected from disease and insects).

Do I need to irrigate my wheat?
The area wheat crop is ranges from anthesis to milk stage of development. As dry weather conditions set in growers need to consider irrigating their wheat. We need to avoid watering during bloom to keep from making Fusarium Head scab disease worse. Then, follow the ET rates or as a rough guide: 0.75 to 1 inch a week. Growers can terminate irrigation when wheat reaches hard dough stage and moisture is present.
Dr. Wes Porter, UGA, says he normally recommends ET replacement on small grains and this time of year we are at or above .10" to .15″ per day putting us at 0.75 to 1″ per week. And this follows the Univ. of Florida small grains crop water use curve in the 2nd slide below as well. You can get the ET rates from your local UGA weather station. The ET rates below are from the Sunbelt Expo location of the UGA Weather Network.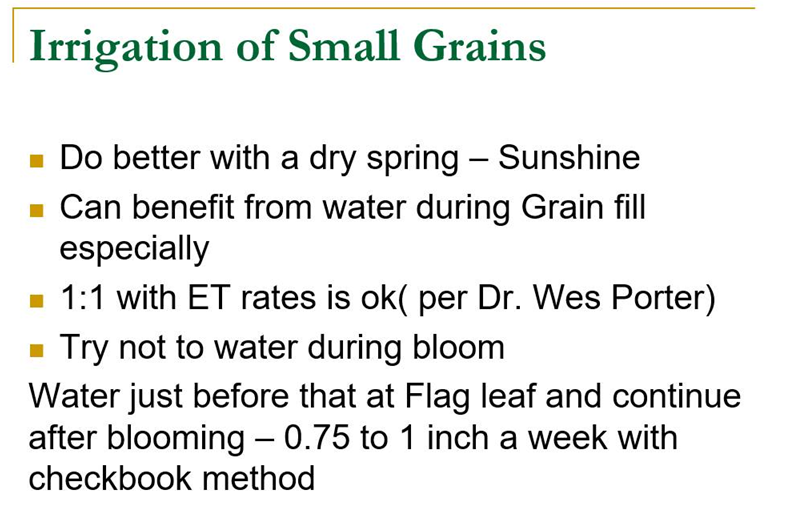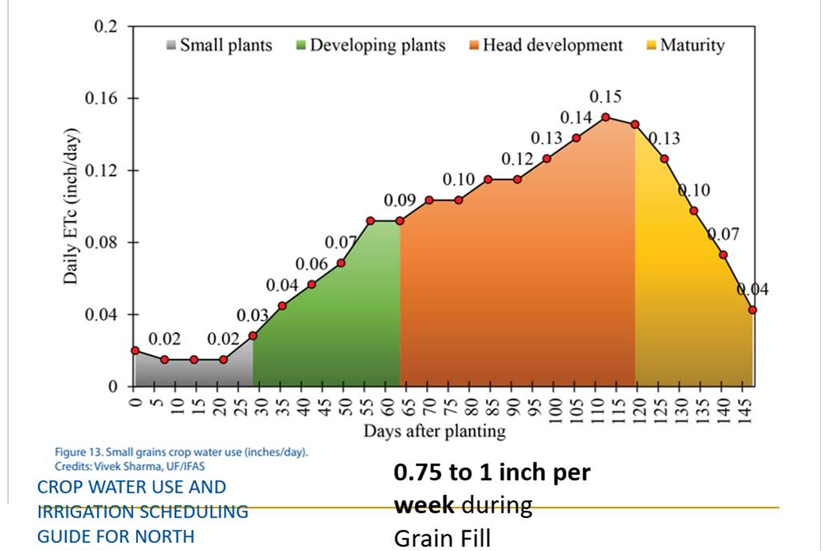 If you have questions please contact your local county Extension agent.