Current Sitation:  The area wheat crop ranges from stem elongation to flag leaf emergence.  There has been stripe rust reported in Colquitt County. The oat crop ranges from stem elongation to early heading.
What is stripe rust? This disease is also known as yellow rust. Pustules coalesce to produce long yellow stripes between the veins of the leaf and sheath. Small yellow, linear lesions occur on floral bracts. These pustules are filled with spores of the fungus. In Georgia, the disease appears in late February or early March during cool, overcast, and wet weather. Stripe rust occurs well before leaf rust. Stripe rust can have a potentially devastating effect on yield. Chemical options are available to control stripe rust, but the selection of fungicide should be made judiciously. Genetic resistance to stripe rust should be the best way to manage the disease. According to the UGA publication Stripe Rust (Yellow Rust) in Wheat, two types of genetic resistance to stripe rust are known: a) seedling resistance and b) adult plant resistance. Seedling resistance, which is controlled by a single gene, is highly effective and lasts throughout the wheat life cycle. Adult plant resistance develops as the plants mature. Expression can occur at different growth stages, ranging from boot to early head emergence, depending on the variety. The boot stage lasts about 10 days, the milk stage 10 to 14 days, and the dough stage 10 to 14 days.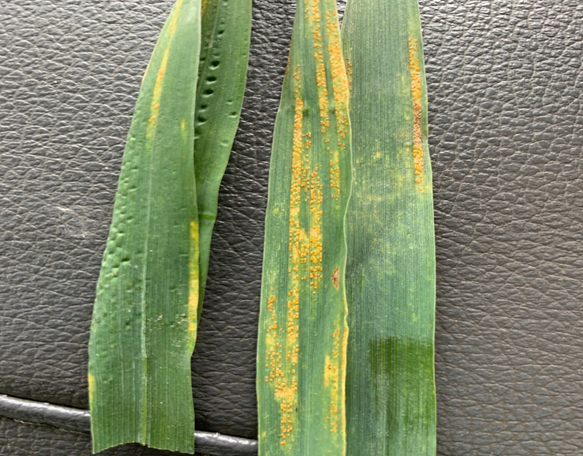 Wheat Growth Stages: Below is a description of important wheat developmental stages
Feekes Stage 7: The second node has become visible
Feekes Stage 8: The flag leaf is visible at this growth stage. The flag leaf begins to emerge from the whole while the second node is visible. When the flag leaf has fully emerged, three nodes are now visible and the flag leaf makes up nearly 75% of the effective leaf area that contributes to grain fill.
Feekes Stage 9: Flag leaf and ligule are just visible at this stage.
Feekes Stage 10: This is the boot stage. The head is developed and can be seed in the swollen section of the sheath of the flag leaf.
The head is fully developed and can be easily seen in the swollen section of the leaf sheath below the flag leaf. The Feekes growth scale at stage 10 is divided as follows:
Feekes 10.0 boot stage
Feekes 10.1 awns visible, heads emerging through slit of flag leaf sheath
Feekes 10.2 heading 1/4 complete
Feekes 10.3 heading 1/2 complete
Feekes 10.4 heading 3/4 complete
Feekes 10.5 heading complete
Feekes 10.5.1 beginning flowering
Feekes 10.5.2 flowering complete to top of spike
Feekes 10.5.3 flowering complete to base of spike
Feekes 10.5.4 kernels watery ripe
Wheat is largely self-pollinating. Most florets are pollinated before the anthers are extruded. Although tillers have developed over a several-week period, bloom on a given wheat plant is usually completed in a few days. After Feekes stage 10.5.3, the remaining growth stages refer to the ripeness or maturity of the kernel.
Current Extension recommendations are to apply a fungicide anytime stripe or leaf rust is found in a field and when other foliar diseases (powdery mildew, stagonospora leaf/glume blotch, tan spot) are progressing up the plant and reach two leaves below the flag leaf. Bear in mind that powdery mildew tends to diminish as temperatures consistently reach above 75 oF and relative humidity falls below 85%. Below are the fungicides available for control of foliar diseases.
Triazoles – metconazole (Caramba), propiconazole (Tilt, Popimax), prothioconazole (Proline), prothioconazole + tebuconazole (Prosaro), and tebuconazole containing products (Folicur, others)
Strobilurins – azoxystrobin (Quadris, Equation, Satori), fluxastrobin (Evito), picoxystrobin (Aproach), pyraclostrobin (Headline)
Mixed mode of action – benzoyindiflupyr + propiconazole + azoxystrobin (Trivapro), cyproconazole + picoxystrobin (Aproach Prima), fluoxapyroxad + pyraclostrobin (Priaxor), fluoxapyroxad + pyraclostrobin + propiconazole (Nexicor), flutriafol + fluoxastrobin (Fortix, Preemptor), fluxastrobin + tebuconazole (Evito T), flutriafol + azoxystrobin (Topguard), pydiflumetofen + propiconazole (Miravis Ace), propiconazole + azoxystrobin (Quilt, QuiltXcel), azoxystrobin + cyproconzole (Azure Xtra),  propiconazole + trifloxystrobin (Stratego), prothioconazole + trifloxystrobin (Stratego YLD, Delaro 325), pyraclostrobin + metconazole (Twinline, Multiva), tebuconazole + trifloxystrobin (Absolute, Absolute Maxx), and tebuconazole + azoxystrobin (Custodia).
A complete list of products, rates, timings, restrictions, etc. can be found on pages 49-52 of the 2021-2022 Wheat Production Guide (https://grains.caes.uga.edu/content/dam/caes-subsite/grains/docs/wheat/Wheat-Production-Guide-2021.pdf) and pages 363-365 of the 2022 Georgia Pest Management Guide.  The section in the Wheat Production Guide contains a wheat fungicide efficacy table developed by the North Central Extension and Research Committee (NCERA-184).
What about Fusarium Head Blight?
Fusarium Head Blight/Head Scab – Fusarium Head Blight requires humid/wet weather coinciding with wheat at flowering growth stages for infection to occur.  There are no symptoms or signs to scout for, therefore, we rely on weather conditions and predictions. The FHB risk tool https://www.wheatscab.psu.edu is now live and available.  The platform has been re-designed with new features added, so it is important to familiarize yourself with the content again.  The application window for chemical control is very tight and must occur during anthesis/flowering. 
Below is an example of the Fusarium Risk Tool for March 23, 2022, assuming a susceptible wheat variety.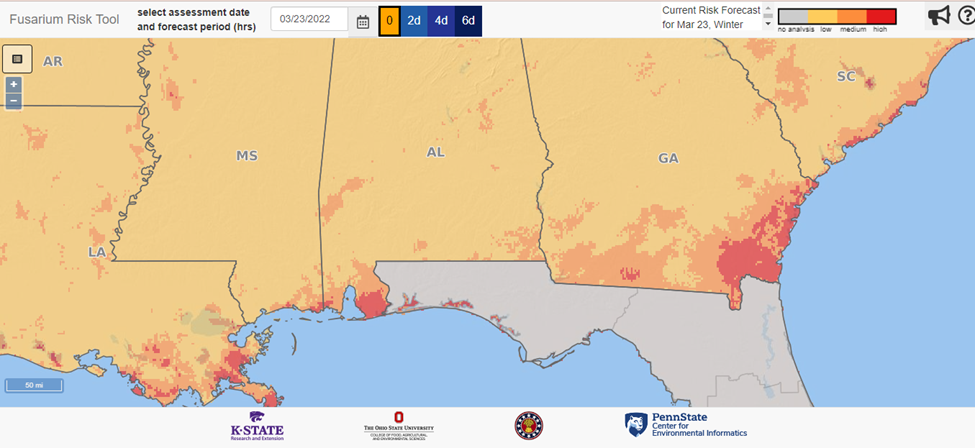 The following are fungicides recommended for control of FHB:
metconazole (Caramba), propiconazole (Tilt), prothioconazole (Proline), tebuconazole (Folicur), prothioconazole + tebuconazole (Prosaro), pydiflumetofen + propiconazole (Miravis Ace).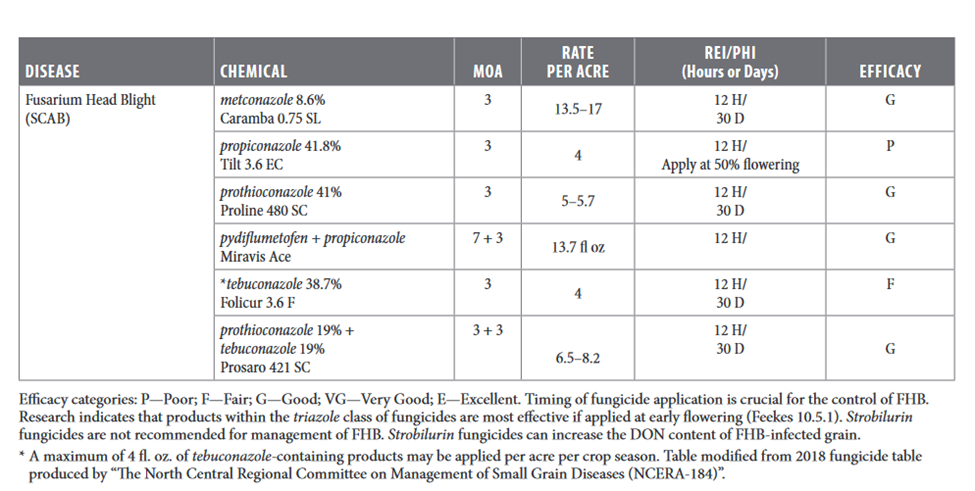 What conditions are good for disease development?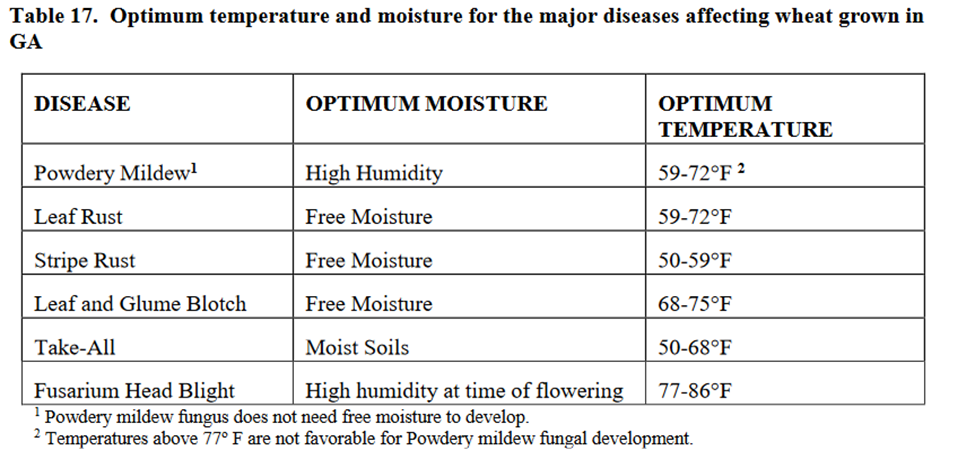 How does the stage of development of small grains affect forage quality?
Currently, oats (March 23, 2022) are ranging from stem elongation to the early heading stage of development in this area because weather is impacting harvest timing. If you are reading the reference "Understanding and Improving Forage Quality" it stages that if the boot-early head stage is missed, take the first harvest at the dough stage for forage quality. According to Dr. Dennis Hancock, Center Director of the U.S. Dairy Forage Research Center, the quality of small grains starts to decline rapidly after the boot stage. However, as the grain fills, it adds NFC (starch, in particular), and this partially offsets the decline in quality. Once it gets to the soft dough stage, however, the fiber in the forage becomes far more concentrated and more highly lignified, so it sharply declines thereafter. Figure 3. below shows the effect of plant maturity on forage intake and digestibility.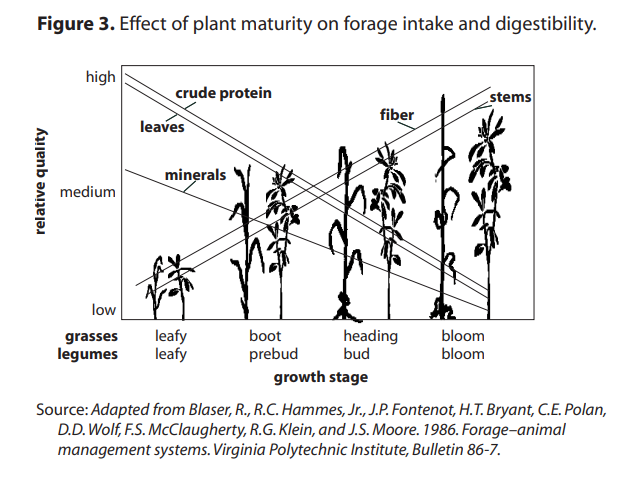 Below is information about the nutrient content of various winter annual silages at different stages of growth. This information is from the publication "Managing Small Grains for Livestock Forage," UK Extension AGR-160.
Relative Differences in Growth Stage Development, and Crude Protein % of Various Small Grain Species


If you have any questions please contact your local county Extension agent.