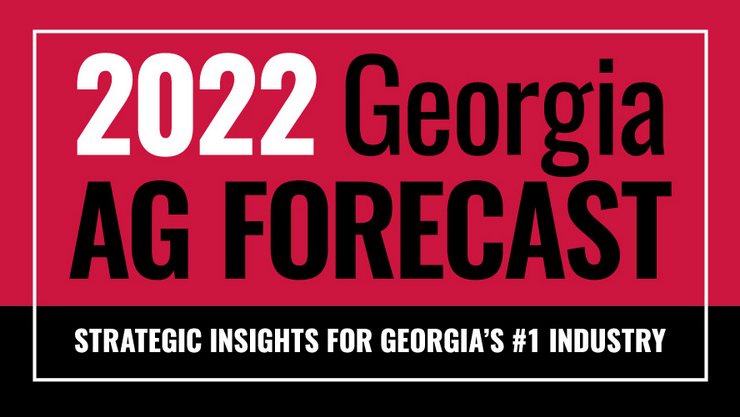 Registration slots are still available to attend the 2022 Georgia Ag Forecast on Jan. 28. The annual event will be held in one location this year, at the University of Georgia Tifton Conference Center on the UGA Tifton campus, with a live virtual option available.
UGA faculty and UGA Extension experts share the latest research and information at the seminar to aid producers and agribusinesses in Georgia's top industry. Economists from the UGA College of Agricultural and Environmental Sciences (CAES) will provide an outlook of agricultural markets for the coming year and keynote speakers will focus on important and trending topics.
"We look forward to sharing what CAES faculty are forecasting for ag and forestry in 2022, and we're happy to offer this year's event with a live virtual option to increase accessibility for attendees across the state of Georgia and beyond," said Mark McCann, assistant dean for Extension at CAES.
A welcome from Assistant Dean and Professor Michael Toews and remarks from CAES Dean and Director Nick Place will be followed by a keynote address from Jeffrey Dorfman, state fiscal economist for Georgia and professor in the CAES Department of Agricultural and Applied Economics.
Breakout sessions will cover forecasts for Georgia's 2022 growing season, focusing on livestock/poultry, horticulture, row crops, and forestry. A light breakfast is included with the $20 in-person registration fee. A live virtual registration, conducted via Zoom, is available for $10.
The 2021 Georgia Ag Forecast is available at agforecast.caes.uga.edu.
The Georgia Ag Forecast is a CAES Signature Event. These special events showcase outstanding faculty contributions, foster community and industry collaboration, and spotlight the college's impact on a global scale.
The 2022 Ag Forecast is sponsored by Georgia Grown, Farm Credit Associations of Georgia, the Georgia Department of Agriculture, the Georgia Agribusiness Council and the Georgia Farm Bureau.
To register, visit agforecast.caes.uga.edu.