Temperatures across most of Georgia in August 2019 were mostly warmer than normal. Precipitation varied quite a bit across the region, with some areas receiving rainfall 200 percent of normal while others received less than 50 percent of normal.
In Atlanta, the monthly average temperature was 82.5 degrees F (3.1 degrees above normal), in Athens 80.3 degrees F (0.7 degrees above normal), Columbus 83.7 F (1.8 degrees above normal), Macon 82.8 F (1.9 above normal), Savannah 83.5 F (2.0 above normal), Brunswick 83.6 F (1.8 above normal), Alma 82.3 F (1.0 above normal), Augusta 82.6 F (2.1 above normal), Albany 83.9 F (1.9 above normal), Rome 80.5 F (1.9 above normal), and Valdosta 82.9 F (1.7 degrees above normal).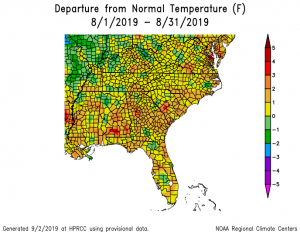 Savannah tied several record high minimum temperatures and a record high temperature of 100 F on August 10. Alma tied their record high of 99 F on the same date. Alma also set a new record low maximum temperature of 80 F on August 25, breaking the old record of 84 F set in 1960. Brunswick set a new record nigh minimum temperature of 80 F on August 13, beating out the old record of 79 F set in 2017 and broke their record high temperature on August 9 with a value of 98 F surpassing the old value of 97 F set in 2018.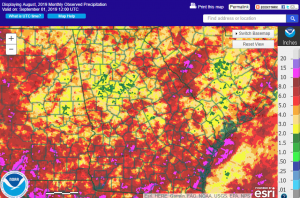 Precipitation was variable across the state, with some areas receiving more than twice their normal rainfall while others got less than half. The southern half of the state was generally a lot wetter than the northern half. The highest monthly total precipitation from National Weather Service reporting stations was 12.92 inches in Augusta (8.60 inches above normal) and the lowest was in Atlanta with 1.89 inches (2.01 inches below normal). Athens received 8.78 inches (5.25 inches above normal), Columbus 3.54 inches (0.23 below normal), Macon 6.19 inches (2.09 above normal), Savannah 3.39 inches (3.17 below normal), Alma 4.05 inches (1.36 below normal), Brunswick 7.08 inches (0.81 above normal), Rome 5.69 inches (1.56 above normal), Albany 6.29 inches (1.45 above normal) and Valdosta 12.04 inches (6.70 inches above normal).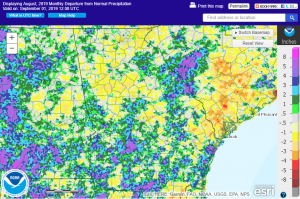 Brunswick set a daily record high precipitation value on August 17 when they received 1.91 inches, breaking the old record of 1.43 inches set in 1989.
The highest 24-hour rainfall total from CoCoRaHS observers in August was 5.20 inches observed south of Augusta in Burke County on August 24, followed by 5.00 inches measured near Eastman in Dodge County on August 20. The highest monthly amount was 11.15 inches measured by an observer east of Midway in Liberty County, followed by 10.80 inches measured by another Midway observer and 10.57 inches measured north of Darien in McIntosh County.
Drought conditions ebbed and flowed during August. The highest amount of area covered by moderate drought came in mid-month with little rain, then dropped briefly before expanding again at the end of the month. No severe drought was observed in August.
Severe weather occurred on eleven days in August. No tornadoes were reported and only four isolated hail reports were made; strong winds were reported 107 times and floods and heavy rains were reported nine times.
The dry conditions helped farmers with good weather for harvesting except where the ground was too hard to invert peanuts. Hot and humid conditions caused problems for field workers in mid-month. Dryland crops were generally not doing well and yields in those areas were expected to be down, but irrigated crops were doing well. Some farmers were starting to feed hay to cattle by the end of the month due to lack of healthy forage.
The outlook for September 2019 and for the September through November period shows that the temperatures for the next three months are expected to continue to be warmer than normal across the state. Precipitation shows no trend towards wetter or drier conditions for the 3-month period except along the East Coast, where the impacts of Hurricane Dorian early in September were factored into the forecast.
For more information please see the "Climate and Agriculture" blog at https://site.extension.uga.edu/climate/. We are also on Facebook at SEAgClimate and on Twitter at @SE_AgClimate.  Please feel free to email your weather and climate impacts on agriculture to share on the blog to pknox@uga.edu.