Temperatures across Georgia in June 2019 varied from two degrees cooler than normal to three degrees warmer than normal, with the northern half of the state experiencing the coldest temperatures. An area around Savannah and a few scattered other locations in the state received over a foot of rain, but other areas were missed by the storms and received less than normal rainfall, which contributed to continuing drought in those counties.
In Atlanta, the monthly average temperature was 77.7 degrees F (0.4 degrees above normal), in Athens 77.0 degrees F (0.5 degrees below normal), Columbus 80.7 F (0.9 degrees above normal), Macon 79.9 F (1.0 above normal), Savannah 81.5 F (1.7 above normal), Brunswick 82.9 F (2.6 above normal), Alma 81.1 F (1.4 above normal), Augusta 79.2 F (0.6 above normal), Albany 82.5 F (2.0 above normal), Rome 76.9 F (1.0 above normal), and Valdosta 81.2 F (1.8 degrees above normal).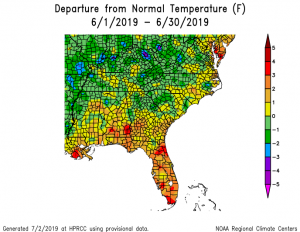 Albany reported a new daily record high temperature of 101 F on June 4, breaking the old record of 100 F set in 1944. Brunswick reported new record high minimum temperatures of 80 F on June 4 and 28, breaking old records of 79 F on each date from 2002 and 1986, respectively.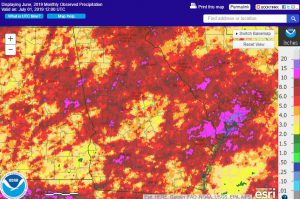 Precipitation varied quite a bit across the state in June as thunderstorms hit some areas and missed others. The wettest part of the state was in the area around Savannah, with drier conditions near Macon and in the far northwest and southwest counties. The highest monthly total precipitation from National Weather Service reporting stations was 12.05 inches in Savannah (6.10 inches above normal) and the lowest was in Rome with 3.59 inches (0.51 inches below normal). Atlanta received 6.46 inches (2.51 inches above normal), Athens received 7.03 inches (2.85 inches above normal), Columbus 6.42 inches (2.70 above normal), Macon 4.30 inches (0.24 above normal), Alma 3.87 inches (1.51 below normal), Augusta 6.45 inches (1.73 above normal), Brunswick 5.25 inches (0.41 above normal), Albany 8.13 inches (3.19 above normal) and Valdosta 6.17 inches (0.11 inches above normal).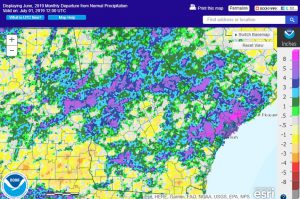 A daily rainfall record was set at Atlanta on June 8, with 3.90 inches beating the old record of 1.45 inches set in 1950. Another daily rainfall record was set at Savannah on June 11, when they received 4.53 inches, breaking the old record of 3.29 inches set in 1973.
The highest 24-hour rainfall total from CoCoRaHS observers in June was 7.03 inches observed west of Savannah in Chatham County on June 12, followed by 6.77 inches measured near Bainbridge in Decatur County on June 10. The highest monthly amount was 14.79 inches measured by an observer in Marlow in Effingham County, followed by 13.82 inches measured by the observer west of Savannah and 13.55 inches measured north of Jesup in Wayne County.
Drought conditions at the beginning of June gradually eroded from north to south as rain fell on parts of the state, eliminating all severe drought (D2) and leaving only small pockets of moderate drought by the end of the month.
Severe weather occurred on fifteen days in June. No tornadoes were reported and only a couple of isolated hail reports were made; the rest were due to strong winds. The biggest stretch of severe weather occurred from June 18 to 24, with numerous reports on every day except June 20.
The rainfall that occurred over most of the state was appreciated by farmers who were worried about corn pollination, growth of pastures, and germination and development of other crops like peanuts and cotton. Excess rain in some areas led to the development of fungal diseases, while drier areas are still craving more rain for their crops.
The outlook for July 2019 and for the July through September period shows that the temperatures for the next three months are expected to continue to be warmer than normal across the state. Precipitation is expected to be drier than normal in July but there is no trend towards wetter or drier conditions for the 3-month period. A lot of the uncertainty depends on when the tropics wake up and start sending more weather systems towards the Southeast, which should happen in August and September as the peak tropical season approaches.
For more information please see the "Climate and Agriculture" blog at https://site.extension.uga.edu/climate/. We are also on Facebook at SEAgClimate and on Twitter at @SE_AgClimate.  Please feel free to email your weather and climate impacts on agriculture to share on the blog to pknox@uga.edu.