July 2018 brought welcome near-average temperatures to the State of Georgia, with most stations experiencing temperatures that were within a degree of normal values. Rainfall in many parts of the state was above normal, but dry conditions were scattered across the state in the hit-or-miss thunderstorms that fell throughout July.
In Atlanta, the monthly average temperature was 80.8 degrees F (0.6 degrees above normal), in Athens 79.7 degrees (0.9 degrees below normal), Columbus 82.4 (0.1 degrees below normal), Macon 81.3 (0.5 below normal), Savannah 83.0 (0.4 above normal), Brunswick 83.3 (0.5 above normal), Alma 83.0 (1.0 above normal), Augusta 81.1 (0.5 below normal), Albany 82.9 (0.5 above normal), Rome 80.5 (0.9 above normal), and Valdosta 80.5 (0.9 degrees below normal).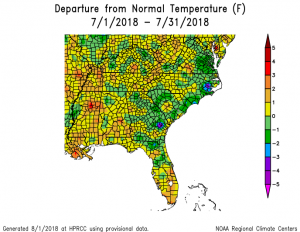 No daily temperature records were set in July.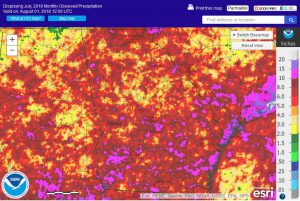 Precipitation was scattered across the state in July 2018. The highest monthly total precipitation from National Weather Service reporting stations was 8.04 inches in Atlanta (2.77 inches above normal) and the lowest was in Augusta with 3.13 inches (1.20 inches below normal). Athens received 4.98 inches (0.51 inches above normal), Columbus 5.00 inches (0.24 above normal), Macon 6.37 inches (1.42 above normal), Savannah 5.54 inches ( 0.06 below normal), Alma 6.15 inches (0.82 above normal), Brunswick 4.74 inches (0.66 above normal), Valdosta 7.52 inches (0.89 above normal), Albany 7.19 inches (1.73 above normal), and Rome 3.22 inches (1.10 inches below normal).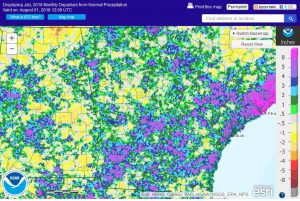 Two precipitation records were set this month at National Weather Service stations. Atlanta reported a daily value of 3.00 inches on July 14, breaking their old daily record of 2.77 inches set in 1954. Alma reported 2.70 inches on July 7, breaking the old record of 1.68 inches set in 2000. They noted that the 2.50 inches reported in an hour on this day was the highest all-time one-hour rainfall amount for July at this location.
The highest daily rainfall total from CoCoRaHS observers in July was 4.14 inches observed near Loganville in Gwinnett County on July 14, followed by 3.97 inches measured at two separate locations near Waynesboro in Burke County on July 27 and west of Savannah in Chatham County on July 21. The highest monthly amount was 14.61 inches measured near Darien in McIntosh County, followed by 14.30 inches and 13.84 inches measured by observers south and east of Savannah, respectively.
Because of the adequate rainfall and cooler temperatures, no drought or abnormally dry conditions were reported in the state in July.
Severe weather, mostly high winds, was reported on 15 days during July. Golf ball sized hail fell near Athens GA on July 21 and was accompanied by strong winds that toppled many trees in the area. On the same day, tennis ball sized hail (2.5″) was reported in Dacula, GA.  This is the 2nd largest hailstone in GA observed in July since records began in 1950. It was tied with 2.5″ on 7/14/2004 in Blue Ridge GA and behind 2.75″ on 7/20/1998 in Austell GA. An EF-1 tornado was observed on Oatland and Whitemarsh Islands near Savannah in Chatham County on the 27th. A report is available from the National Weather Service at https://www.weather.gov/media/chs/events/ChathamCo_Tornado_Jul_2018/ChathamCountyGA_EF1_Tornado_07272018.pdf.
The wet and relatively cool conditions led to the development of some diseases on crops and slowed the harvest of hay, but overall farmers have been very pleased with the rainfall amounts and say that they expect very good harvests of crops like cotton, soybeans and peanuts. Hail and strong winds caused some damage to fields scattered around the state. Rain is slowing the harvest and dry-down of some crops due to the cooler temperatures and high humidity levels.
The outlook for August and the August through October period shows slightly enhanced chances for above-normal temperatures in most of the state in the August through October period, with equal chances of above, near or below normal temperatures in August. The chances for above normal precipitation (and associated cloudy conditions, most likely) continue In August due to the ample soil moisture that is available.  Equal chances of above, near or below normal precipitation are present for August through October.
For more information please see the "Climate and Agriculture" blog at https://site.extension.uga.edu/climate/. We are now also on Facebook at SEAgClimate and on Twitter at @SE_AgClimate.  Please feel free to email your weather and climate impacts on agriculture to share on the blog to pknox@uga.edu.