After a cold March and April, the state of Georgia rebounded in May with well above-normal temperatures for almost all of the state.  May started out very dry but in the second half of the month, rain fell almost every day at many locations, leading to precipitation totals well above normal. This was aided by the passage of Subtropical Storm Alberto through Alabama, which brought significant moisture into Georgia and helped trigger many of the rainstorms.
In Atlanta, the monthly average temperature was 74.8 degrees F (4.7 degrees above normal), in Athens 73.5 degrees (3.5 degrees above normal), Columbus 77.1 (4.1 degrees above normal), Macon 74.9 (3.0 above normal), Savannah 76.3 (3.0 above normal), Brunswick 76.4 (1.9 above normal), Alma 76.0 (2.9 above normal), Augusta 74.0 (2.9 above normal), Albany 77.7 (3.2 above normal), Rome 74.2 (5.9 above normal), and Valdosta 74.8 (1.0 above normal).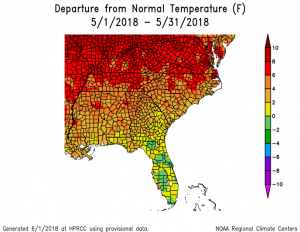 A number of maximum temperature records were set in May. Atlanta broke their daily high temperature on the 13th, with 91 F surpassing the old record of 90 F set in 1956. Athens also set a new high record of 94 F on that day, breaking the old record of 92 F last set in 2000. Alma broke a maximum temperature record on May 12, with 96 F recorded to break the old record of 95 F set in 2011. They noted this was the earliest ever two-day streak of 96 F or higher for their station. Several other high temperature records were tied at Atlanta, Augusta, and Alma.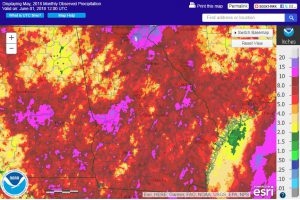 Precipitation was much above normal in most of the state in May 2018. The highest monthly total precipitation from National Weather Service reporting stations was 9.93 inches in Columbus (6.74 inches above normal) and the lowest was in Rome with 2.80 inches (1.38 inches below normal).  Atlanta received 4.45 inches (0.78 inches above normal), Athens received 9.31 inches (6.31 inches above normal), Macon 6.99 inches (4.27 above normal), Savannah 6.71 inches ( 3.73 above normal), Augusta 8.21 inches (5.56 above normal), Alma 4.90 inches (2.43 above normal), Brunswick 2.99 inches (1.13 above normal), Valdosta 7.62 inches (5.09 above normal), and Albany 4.60 inches (1.91 above normal). It will be one of the wettest Mays that Georgia has ever experienced, but the final ranking will come from NCEI in about ten days when the final US climate summary becomes available.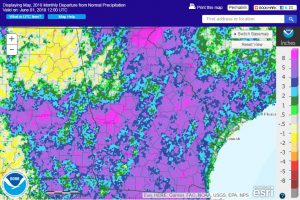 Two precipitation records were set this month at National Weather Service stations. Athens received 0.95 inches on May 16, breaking the old record for that date of 0.89 inches set in 1942. Columbus received 3.70 inches on May 23, breaking the old record of 3.09 inches set in 1974. Records from NWS cooperative stations have not been received yet but undoubtedly records at those stations were also broken, particularly in the areas northeast of Columbus and in the northeast mountains.
The highest daily rainfall total from CoCoRaHS observers in May was 5.61 inches near Douglasville in Douglas County on May 17. An observer near Dillard in Rabun County received 5.13 inches on May 30 along with a Cataula observer in Harris County, who received 4.93 inches on May 24. The highest monthly precipitation amount was 17.49 inches from the observer near Dillard, followed by 16.96 inches by an observer near Helen and 16.89 inches from an observer near Sautee nearby. Note that this does not include incredibly heavy rain which fell in White County near Sautee on the evening of May 31, which will be included in the June report when it is recorded on June 1.
An EF0 tornado occurred on May 24 near Screven in Wayne County. Scattered wind damage was reported on six other days this month. Because of wet soils, many trees fell during the passage of Alberto, causing damage to buildings, power lines, and vehicles even though the winds were not severe.
Torrential flooding occurred at several locations in May due to heavy rains that fell. The Helen-Sautee area had significant flooding with associated street closures and power outages at the end of the month as they got hit several times by strong thunderstorms which dropped inches of rain on already saturated soil. Because of the rain upstream of Atlanta, water is being released from Buford Dam on Lake Lanier into the Chattahoochee River continuously to keep levels safe. Heavy rains also occurred northeast of Columbus in the last week with up to seven inches of rain occurring in some locations ahead of Alberto. Sadly, several deaths due to drowning occurred in the state in areas of high water in May and early June.
Athens set a new record for consecutive days of measurable rain with 18 days reported as of the end of the month, including June 1. This is the longest continuous number of rainy days for any month in their record, which stretches back more to 1857 with some breaks in the early record. The previous string of rainy days in Athens was 14 days long in late June 1963.
Because of the heavy rains in the second half of the month, drought was eliminated from Georgia in May 2018. Only a few small patches of residual abnormally dry conditions remained and are expected to be removed in early June.
The hot conditions in May accelerated the growth of many crops. Dry conditions in the first half of the month prevented farmers from planting some crops, only to be stymied in the second half of May when constant showers made the fields too wet to enter. That caused problems for producers who needed to get into the fields to apply agricultural chemicals as the plants grew quickly. Peanut plants were stunted in the wet conditions. Wet conditions hampered the production of hay due to lack of dry days and cloudy conditions. The rainy conditions also reduced pollination rates and discouraged honeybees from entering the fields. Strawberry production ended early due to rain and cloudy skies and blueberries were bursting from the excess rain, reducing quality. Small grains are in poor conditions and many fields have heavy lodging which will make harvest difficult. Grape growers are also experiencing heavy pressure from fungal diseases and poor pollination of fruit. Livestock were doing well due to ample availability of pasture, however.
The outlook for June and the June through August period shows slightly enhanced chances for above-normal temperatures in most of the state. The chances for above normal precipitation (and associated cloudy conditions, most likely) continue due to the ample soil moisture that is available.  Equal chances of above, near or below normal precipitation are present for May through July. No chance of drought returning any time soon!
For more information please see the "Climate and Agriculture" blog at https://site.extension.uga.edu/climate/. We are now also on Facebook at SEAgClimate and on Twitter at @SE_AgClimate.  Please feel free to email your weather and climate impacts on agriculture to share on the blog to pknox@uga.edu.