After a record-setting warm February in the Southeast, it shocked many people to swing back to colder than normal temperatures in March. In many places, the average temperature for March was colder than the average temperature for February this year. Precipitation in most of the state was also below normal, leading to an increase in drought, particularly in the southeastern part of the state where the deficits were largest. Only one station reported snow this month, a CoCoRaHS station near Dillard in the northeastern mountains early in March.
In Atlanta, the monthly average temperature was 53.5 degrees F (0.8 degrees below normal), in Athens 52.5 degrees (1.8 degrees below normal), Columbus 57.5 (0.3 degrees below normal), Macon 55.8 (1.0 below normal), Savannah 58.0 (1.2 below normal), Brunswick 59.3 (1.0 below normal), Alma 57.9 (2.3 below normal), Augusta 54.5 (1.4 below normal), Albany 58.6 (0.6 below normal), Rome 52.0 (0.1 below normal), and Valdosta 57.1 (3.0 degrees below normal).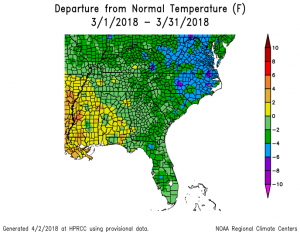 Only a few temperature records were set this month. On March 1, Macon broke their old record high of 84 F from 1918 with a new record of 85 F. On that day, Savannah also got up to 88 F, surpassing the old record of 86 F also set in 1918 and in 2017, and Brunswick reached 85 F, breaking their old record of 82 F from 1971. Columbus tied their record high of 83 on that date (also from 1918). Brunswick also tied a record high of 84 F on March 18 with their old record from 1977.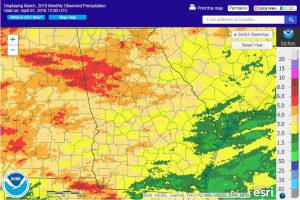 Precipitation was below normal in most of the state in March 2018. The highest monthly total precipitation from National Weather Service reporting stations was 4.86 inches in Atlanta (0.05 inches above normal) and the lowest was in Savannah with 1.22 inches (2.51 inches below normal).  Athens received 3.18 inches (1.25 inches below normal), Columbus received 3.15 inches (2.31 below normal), Macon 2.65 inches (1.90 below normal), Augusta 3.21 inches (0.97 below normal), Alma 2.03 inches (2.72 below normal), Brunswick 1.80 inches (2.08 below normal), Valdosta 1.82 inches (3.05 below normal), Albany 5.24 inches (1.08 above normal) and Rome 3.74 inches (1.21 inches below normal).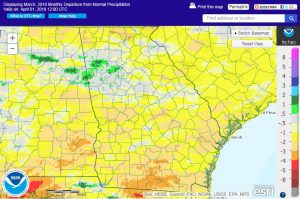 No daily precipitation records were set this month. The only snow reported was 0.2 inches at the Dillard CoCoRaHS station in Rabun County on March 7.
The highest daily rainfall total from CoCoRaHS observers in March was 3.72 inches near Morganton in Fannin County on March 1. Observers north of Ellijay in Gilmer County and Helen in Habersham County received 3.67 and 3.66 inches, respectively, on the same day. The highest monthly precipitation amount was 8.51 inches from the observer north of Helen in Habersham County, followed by 8.48 inches near Cedartown in Polk County.
Tornadoes occurred on March 17 in far northeastern Georgia, with an EF1 tornado in White County, and on March 19, with a strong line of storms moving in from Alabama that brought hail and several tornadoes into west-central Georgia. The March 19 tornadoes and severe weather are described in this NWS report at https://www.weather.gov/ffc/20180319_severe_wx.  Wind and hail were also reported at  a few locations on March 1 and 20.
The lack of rainfall in many parts of the state contributed to an overall increase in drought in Georgia in March, especially in the southeast region. By the end of the month, severe drought was reintroduced in that area and covered over 10% of the state. Overall, 50 percent of the state was in drought at the end of the month. Drought was removed from the northwest corner of the state due to wetter conditions there.
The colder air in March slowed the growth of some crops and delayed planting of others due to colder soil temperatures. Dry soil also contributed to planting delays. Frost during the month caused significant damage to early peaches and blueberries and mild to moderate damage to mid-season peaches and blueberries. Other crops were doing well and field work was proceeding as expected.
The outlook for April shows equal chances of near, above and below normal temperature. The northern part of the state continues to have a higher chance of above-normal precipitation.  The April-June period shows that warmer than normal conditions have an enhanced risk of occurring again through June, especially in southern Georgia. There is no trend towards above or below normal precipitation during that time period. Drought in the southeastern part of the state is expected to persist in April but may be eliminated in central Georgia.
For more information please see the "Climate and Agriculture" blog at https://site.extension.uga.edu/climate/. We are now also on Facebook at SEAgClimate and on Twitter at @SE_AgClimate.  Please feel free to email your weather and climate impacts on agriculture to share on the blog to pknox@uga.edu.