Every official weather station across the state of Georgia was at least nine degrees above normal in February 2018, leading to what will be a record warm month once the final statistics are tallied. Numerous high temperature records were broken this month in conjunction with the hottest conditions in mid-month. This sits in stark contrast to January, where temperatures averaged about three degrees below average. Precipitation was highly variable across the state, with northwestern portions receiving up to a foot of rain and southern and eastern areas as low as only an inch. No snow was reported in February, which is not a surprise considering the warm temperatures.
In Atlanta, the monthly average temperature was 57.3 degrees F (10.1 degrees above normal), in Athens 57.4 degrees (10.2 degrees above normal), Columbus 62.3 (11.2 degrees above normal), Macon 60.3 (10.3 above normal), Savannah 63.5 (10.5 above normal), Brunswick 63.5 (9.0 above normal), Alma 63.9 (9.7 above normal), Augusta 60.0 (10.9 above normal), Albany 63.6 (11.2 above normal), Rome 55.6 (11.1 above normal), and Valdosta 64.1 (9.9 degrees above normal).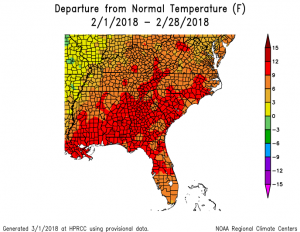 Because of the incredibly warm conditions, every official NWS station in the state set a new record for the warmest February ever. Record lengths vary from one station to the next, with the longest record of 145 years at Savannah. Numerous daily high temperature and high minimum temperature records were also set during the month, especially during the period from February 17 to 25. This includes all-time highest temperature for the month of February for any date at Athens, Alma and Brunswick and tied at Columbus.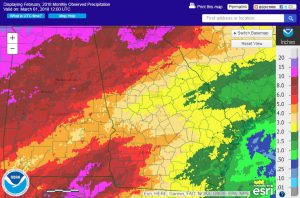 Precipitation varied widely across the state in February 2018. The highest monthly total precipitation from National Weather Service reporting stations was 7.61 inches in Rome (2.74 inches above normal) and the lowest was in Brunswick with 1.32 inches (2.15 inches below normal).  Atlanta received 6.11 inches (1.44 inches above normal), Athens 5.78 inches (1.30 above normal), Columbus received 3.56 inches (0.88 below normal), Macon 3.49 inches (0.87 below normal), Augusta 1.57 inches (2.35 below normal), Savannah 1.76 inches (1.03 below normal), Alma 1.96 inches (1.84 below normal, Valdosta 3.80 inches (0.36 below normal), and Albany 5.24 inches (1.08 inches above normal).
No daily precipitation records were set this month and no snow was reported.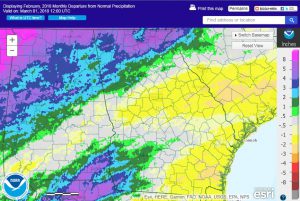 The highest daily rainfall total from CoCoRaHS observers was 5.11 inches south of Donalsonville in Seminole County on February 12, followed by 4.65 inches near Bainbridge in Decatur County on the same day. The highest monthly precipitation amount was 12.39 inches from an observer near Dahlonega in Lumpkin County, followed by 12.28 inches northwest of Ellijay in Gilmer County.
Three tornadoes were reported in west central Georgia on February 7 in Haralson, Heard and Talbot Counties. You can read more about them in the NWS summary at https://www.weather.gov/ffc/20180207_Tornadoes. Isolated strong winds caused storm damage on February 4 and 25.
The excess rainfall in many parts of the state contributed to an overall decrease in drought in Georgia in February, including the removal of all severe drought from the state. However, there was some expansion of moderate drought in east central Georgia, which was largely missed by the heaviest rains.
Because of the warm temperatures, many flowering trees and shrubs started flowering 2-3 weeks ahead of normal. This is of concern to fruit farmers, who are worried about the potential for a frost to impact crop yields this year. Pastures were in good shape and most farmers had plenty of feed for their livestock. Onions recovered from their January cold injury and were in excellent condition. Farmers began planting corn in the southernmost counties by the end of the month.
The outlook for March shows equal chances of near, above and below normal temperature. The northwest part of the state continues to have a higher chance of above-normal precipitation.  The March-May period shows that warmer than normal conditions have an enhanced risk of occurring again throughout the spring. Some cold outbreaks are still likely to occur, however. There is no trend towards above or below normal precipitation in spring. Some increase in drought in the southeastern part of the state is expected in March due to the dry conditions that have been occurring there for the last two months.
For more information please see the "Climate and Agriculture" blog at https://site.extension.uga.edu/climate/. We are now also on Facebook at SEAgClimate and on Twitter at @SE_AgClimate.  Please feel free to email your weather and climate impacts on agriculture to share on the blog to pknox@uga.edu.