Above-normal temperatures covered Georgia again in March 2017, with National Weather Service offices reporting temperatures as much as 3.4 degrees above normal.  This is the 14th month in a row with above-normal temperatures for the state as a whole.  In spite of the warm conditions, frigid temperatures mid-month killed off 80 percent of the Georgia blueberry crop and caused damage to strawberries, peaches and other crops.  Precipitation was scant in March, with many areas receiving less than 50% of their normal rainfall.
In Atlanta, the monthly average temperature was 57.7 degrees F (3.4 degrees above normal), in Athens 56.8 degrees (2.5 degrees above normal), Columbus 60.3 (2.5 degrees above normal), Macon 58.8 (2.0 above normal), Savannah 61.0 (1.8 above normal), Brunswick 62.5 (2.2 above normal), Alma 60.4 (0.2 above normal), Augusta 58.8 (2.9 above normal), Albany 62.0 (2.8 above normal), Rome 55.5 (3.4 above normal), and Valdosta 60.9 (0.8 degrees above normal).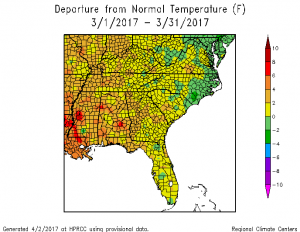 A number of record temperatures were tied or set in March.  High temperatures broken include Atlanta and Macon on March 29, which reached 86 F and 88 F respectively, passing the old records of 85 F set in 1989 and 87 F set in 1907.  On March 21, Athens got up to 88 F, surpassing the old record of 84 F set in 1948, and Augusta reached 91 F, beating out the old record of 89 F also set in 1948.  Savannah, Alma and Brunswick also broke at least one record high during the month as well as tying others.  Columbus set a record low on March 16, getting down to 25 F to beat the old record of 27 F set in 1949. On the same morning Augusta sunk down to 23 F, which tied their record for the date, and Brunswick and Alma reached 32 F and 27 F, respectively, beating out 33 F and 29 F.  Alma broke a low maximum temperature record on March 13, getting up to just 47 F, which beat out 48 F set in 1965.  Brunswick had a record high minimum temperature of 68 F on March 1, which was higher than the old value of 64 F set in 2012.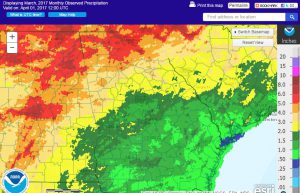 Rome and Athens tied for having the highest monthly total precipitation for National Weather Service stations.  Both of them received 4.31 inches during the month, which was 0.12 inches below average for Athens and 0.64 inches below normal for Rome. The lowest precipitation was in Savannah with 0.50 inches (3.23 inches below normal).  Atlanta received 2.68 inches (2.13 inches below normal), Columbus 1.53 inches (3.93 below normal), Macon 1.45 inches (3.10 below normal), Augusta 1.77 inches (2.41 below normal), Alma 0.54 inches (4.21 below normal), Valdosta 1.20 inches (3.67 below normal), Brunswick 0.66 inches (3.22 below normal) and Albany 1.22 inches (3.83 below normal).
Most of the state south of a line from Columbus to Atlanta to Augusta received less than 50% of their normal rainfall for the month, and much of that area received less than 25% of their normal rainfall.
No daily rainfall records were set in March.
It was the 5th driest March on record for Columbus and Savannah.
The highest daily rainfall total from CoCoRaHS observers was 3.52 inches in Arnoldsville in Oglethorpe County on March 22; two other nearby observers reported 3.38 inches and 3.13 inches the same morning.  The highest monthly total was from an observer 10 miles northwest of Ellijay with 8.69 inches, followed by 8.42 inches measured in McCaysville in Fannin County and 8.17 inches seven miles north of Cherry Log, also in Fannin County.
The highest daily snow amount was 2.0 inches set near Hiawassee in Towns County and the same amount reported near Dillard in Rabun County on March 12. These were also the highest monthly totals.
Two major rounds of severe weather impacted Georgia in March.  The first round on March 1 brought high winds and one EF1 tornado to Chatsworth in Murray County, causing damage to a barn, a school and several roofs.  The second round, on March 21, brought two weak tornadoes to Barrow and Jackson Counties.  One fatality was caused by a tree falling on a house near Hoschton in Jackson County, and a wind gust of 83 mph was observed on the top of Stone Mountain east of Atlanta. Scattered severe weather was also seen on March 9, 27 and 30.
Because of the lack of rainfall, dry conditions expanded to cover nearly the entire state by the end of the month.  Farmers in southern Georgia were irrigating their fields to help corn germinate in the dry soil. Drought is expected to develop along the coast later in the month. However, rain in the northern counties whittled away at the extreme drought there, reducing it by almost half.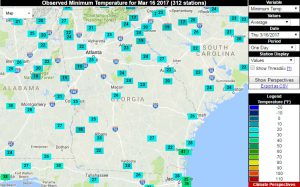 The biggest agricultural impact of the month was the killing frost that hit in mid-month.  Hard freezes occurred on March 15, 16 and 17 in many locations, with the temperatures falling lower the second day as drier air flowed into the state from the north. The freeze destroyed an estimated 80% of the blueberry crop in the state and caused additional damage to strawberries, peaches, and some newly planted crops.  Small grains, pastures and forage were also set back by the freezing temperatures. Vidalia onions, however, came through in good shape and the yield and size of the onions this year is expected to be very good. While the frost was not particularly late this year, the warm conditions throughout winter and spring helped the plants bloom several weeks earlier than usual, making them particularly vulnerable to the frost when it occurred.
Peach trees that survived the frost had problems with blooms coming out of dormancy due to the lack of chill hours this winter, and yields are expected to be significantly reduced for those orchards.
The outlook for April shows that warmer than normal conditions have an enhanced risk of occurring again throughout the month.  Precipitation should be heavy early in the month but is likely to return to drier than normal conditions for the last three weeks.
For more information please see the "Climate and Agriculture" blog at http://site.extension.uga.edu/climate/  or visit our web page at http://www.gaclimate.org.  Please feel free to email your weather and climate impacts on agriculture to share on the blog to pknox@uga.edu.