Temperatures were far above normal across the state in February 2017 in Georgia.  Anomalies ranged from six to more than nine degrees above average.  This is the 13th month in a row with above-normal temperatures for the state as a whole.  Rainfall across the state was well below normal with the sole exception of a small area in Quitman County, which was above normal.
In Atlanta, the monthly average temperature was 56.1 degrees F (8.9 degrees above normal), in Athens 55.1 degrees (7.9 degrees above normal), Columbus 57.7 (6.6 degrees above normal), Macon 57.5 (7.5 above normal), Savannah 61.4 (8.4 above normal), Brunswick 62.2 (7.7 above normal), Alma 60.5 (6.3 above normal), Augusta 58.3 (9.2 above normal), Albany 60.5 (8.1 above normal), Rome 52.2 (7.9 above normal), and Valdosta 61.1 (6.9 degrees above normal).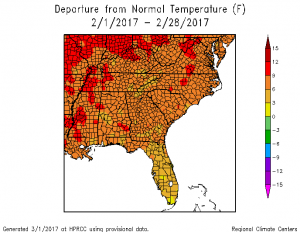 Atlanta set a new record temperature for the month, blowing away the old record of 54.1 F set in 1927 (139 years of record).  All other NWS stations in the state were in their top five warmest February on record.  Daytime maximum temperatures helped push these values upward.
A number of record highs were set in February.  Atlanta broke their record high on February 24, observing 78 F to pass the old record of 77 F set in 1982.  On the same day Athens tied their record of 79F, Macon broke their old record of 79 F from 1985 with a new observation of 81 F, and Augusta set a new record high of 84 F, breaking the old record of 82 F, also set in 1985.  Alma broke their record high on February 28, observing 85 F which surpassed the old record of 84 F set in 2011 and Brunswick and Augusta broke record highs on February 12, reporting 79 F at both locations, which surpassed the old records of 78 F set in 1999 and 1922, respectively.  Several other record highs were also tied.
February was also notable for the number of warm days.  Athens, Macon and Savannah all broke records for the number of days at or above 70 F, while Atlanta was second and Columbus tied for third highest.  Many stations reported at least one day at 80 F or higher, and Augusta reported 5 and Savannah 6 days at or above 80 F.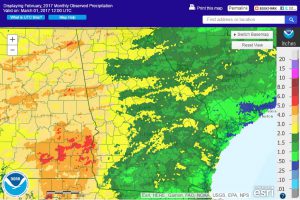 The highest monthly total precipitation from National Weather Service reporting stations was 3.48 inches in Rome (1.42 inches below normal) and the lowest was in Brunswick with 0.86 (2.61 inches below normal).  Atlanta received 1.87 inches (2.80 inches below normal), Athens received 1.19 inches (3.29 below normal), Macon 1.94 inches (2.42 below normal), Savannah 2.22 inches (0.57 below normal), Augusta 2.11 inches (1.81 below normal), Alma 1.04 inches (2.76 below normal), Valdosta 1.20 inches (2.96 below normal), and Albany 3.04 inches (1.12 below normal).  The only area of the state that was above normal was a part of Quitman County in southwest Georgia.
There was one daily rainfall record this month.  Savannah recorded 2.08 inches of precipitation in February 22, surpassing the old record of 1.45 inches set in 1998.
It was the 7th driest February for Athens based on 161 years of record.  The last time it was this dry in February was 1978 with just 0.75 inches.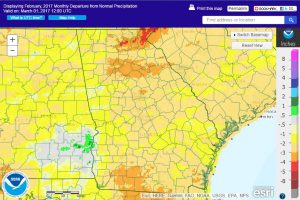 The highest daily rainfall total from CoCoRaHS observers was 3.15 inches west of Albany in Dougherty County on February 8, followed by 2.22 inches measured at Fort Gaines in Clay County on February 22.  For the entire month, the highest total was 4.72 inches measured east of LaGrange in Troup County followed by 4.57 inches from the Fort Gaines observer and 4.55 inches from the Albany observer.  A few snow flurries were reported in the northeast mountains on February 9.
Two rounds of severe weather impacted Georgia in February.  Tornadoes were reported in Harris, Bulloch and Effingham Counties during February 7-8 with a strong frontal passage.  One of the tornadoes in Bulloch County resulted in 5 injuries from an EF-2 tornado but most of the damage was from fallen trees.  Isolated wind damage occurred on February 23 and 24.  Agricultural producers were continuing to clean up damage from the severe storms in January, which damaged pecan trees, fences and irrigation equipment.
Drought in northern Georgia persisted through the month.  While the total area designated as abnormally dry or in drought shrunk, the area of extreme drought in northern Georgia expanded as the month progressed with little rain.
The warm weather led to a shortage in chill hours for fruit crops.  Last year this resulted in a 20% yield loss to peaches and other crops, and the chill hours this year are lower than last year, so yield losses are also likely this year.  Fruit trees were blooming as much as a month earlier than the last two years, which could cause problems if a late frost occurs.
The warm weather caused the Vidalia onion growers to adopt an earlier first packing date this year compared to previous years. It is scheduled for April 12.  The onions appear to be in good condition with minimal disease pressure.
Pastures and small grains in southern Georgia were progressing well but were stalled in north Georgia due to the continuing drought there.
The outlook for March shows that warmer than normal temperatures are likely to continue through the month, although some colder temperatures could occur mid-month.  Precipitation has an equal chance of above, below or near normal conditions for the month as a whole, but drier conditions are expected early in the month and a return to wetter conditions could occur in the last two weeks.
For more information please see the "Climate and Agriculture" blog at http://site.extension.uga.edu/climate/  or visit our web page at http://www.gaclimate.org.  Please feel free to email your weather and climate impacts on agriculture to share on the blog to pknox@uga.edu.