Drought continues to expand across the Southeast as warmer than normal temperatures and virtually no rain has plagued the region again this week.  Now all of northern Georgia is in extreme drought and exceptional drought has also expanded slightly.  Unfortunately, while temperatures have dropped and will be cooler in the next week, there is still little to no chance of rain for the next seven days.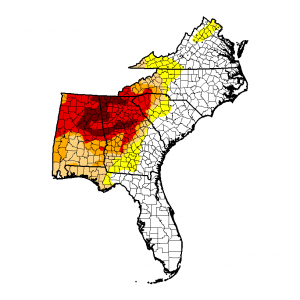 I've been getting calls about how the Drought Monitor is put together.  I understand that there is a lot of frustration out there about not showing how bad it is in your area. Below is a response I wrote to Jeremy Kichler, Colquitt County Extension Coordinator, about how the Drought Monitor works.  I continue to share whatever comments I hear about the current conditions with the State Climatologist and DM authors, and I know they are reading the Drought Impact Reporter reports as well.  Thanks for providing your input–it is appreciated even if you don't think it shows up on the DM maps.
"The Drought Monitor is a collaborative effort between a bunch of different people.  They use whatever weather stations they can find that they think are reliable.  This would include the National Weather Service coop stations, UGA stations, some CoCoRaHS stations, and some US Forest Service and USGS stations.  There is still a lot of the state with no weather stations at all.  And of course the data has to be accessible in real time so people who mail in their reports don't get included.  To fill in the gaps they do also use radar estimates of rainfall in areas where there are no stations.  
They also use indices like the Palmer Drought Severity Index, Standardized Precip Index, plus stream flow, ground water levels, etc. to identify areas of drought.  They consult the Drought Impact Reporter for reports from on the ground and also read comments that Extension agents put in the weekly crop status reports sent to the Ag Statistics service.  They also listen to people who call into the State Climate Office.
Then they have to balance all of these numbers plus the comments to determine where to draw the lines.  There is a lot of push and pull between different groups as to where the different drought designations go, and some people think they don't make the changes fast enough.  There is also some politics involved, and I have seen the drought lines follow state boundaries in some cases.  In Georgia the State Climatologist is heavily involved in the weekly discussion of where to draw next week's lines, but he has said to me that the national people don't always use his input if it does not match what they are seeing in the numbers.  They also have rules about not increasing by more than a category per week even if conditions get worse fast.
I think the county extension reports are used and appreciated and used to show what is really going on in your area as long as they can see them on the weekly crop report or the Drought Impact Reporter.  Having said that though, in my opinion they don't always give them as much weight as they should.  In the past they have felt that a few extension agents are also putting some politics into it trying to get the worst possible designation so that farmers in their counties can collect on crop insurance, so they have to take that into account too."
Remember that the DM authors have to draw a map each week for the whole country on top of their regular work activities.  This is why the authorship changes from one week to the next and why it may not feel like your local area is getting enough scrutiny.  I know most of the authors personally and they are all dedicated to providing the best and most accurate maps they can in the time they have to combine all of this information together.  Just one example of how the government is working well to provide a service that no one else will do.