Above-normal temperatures continued in Georgia for a fourth straight month in September.  Departures from normal temperature were even higher in September than in August.  The hottest areas were in the northwestern half of the state where no cooling relief from tropical storm rain and clouds occurred.  Tropical storms Hermine and Julia provided much needed rainfall to the southeast and coastal areas of Georgia but missed the driest parts of the state.  This lead to an expansion of severe drought and the introduction of exceptional drought in northwest Georgia at the end of the month.
In Atlanta, the monthly average temperature was 78.8 degrees F (5.2 degrees above normal), in Athens 77.7 degrees (4.4 degrees above normal), Columbus 80.3 (3.7 degrees above normal), Macon 78.6 (3.6 above normal), Savannah 79.6 (2.7 above normal), Brunswick 79.4 (1.3 above normal), Alma 78.5 (1.4 above normal), Augusta 77.4 (2.8 above normal), Albany 80.6 (2.9 above normal), Rome 77.6 (5.6 above normal), and Valdosta 79.6 (2.2 degrees above normal).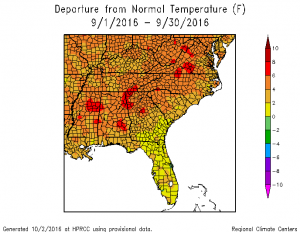 It was the warmest September on record for a number of stations in northern Georgia according to the Perspectives tool from the Southeast Regional Climate Center.  In spite of that, only three record daily high temperatures were tied this month.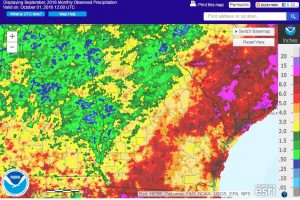 The highest monthly total precipitation from National Weather Service reporting stations was 8.21 inches in Brunswick (2.45 inches above normal) and the lowest was in Rome at 0.24 inches (3.17 inches below normal).  Atlanta received 3.43 inches (0.84 below normal), Columbus received 0.75 inches (2.31 below normal), Macon 2.18 inches (1.41 below normal), Savannah 4.99 inches (0.41 above normal), Augusta 4.58 inches (1.36 above normal), Alma 4.26 inches (0.62 above normal), and Albany 3.29 inches (0.15 below normal).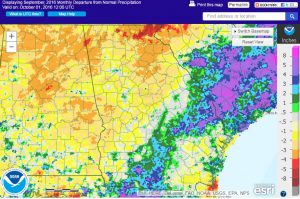 It was the second driest September in Rome in 124 years of record, following zero inches in 1897.
Several daily rainfall records were set during the month in association with Hermine and Julia.  August had a record of 4.20 inches on September 2, passing the old record of 1.12 from 2014.  Alma had 3.26 inches on the same date, breaking the old record of 3.19 set in 1957.  Brunswick had 4.43 inches on September 13, breaking the old record of 2.03 set in 2002.
Seven CoCoRaHS observers in Valdosta reported daily rainfall amounts of 6.08 to 6.01 inches on September 2 during Hermine's passage.  A St. Simons Island observer reported 6.03 inches on September 14 during Julia's movement through the area.  The highest monthly rainfall of 12.80 inches was measured near Darien in McIntosh County, followed by 10.07 inches in St. Simons in Glynn County and at Newington in Screven County.
Severe weather was observed on four days during the month.  Two small tornadoes were observed near Riceboro in Liberty County and near Skidaway Island in Chatham County on September 1 in spiral bands ahead of Hermine.
Rainfall from Hermine and Julia helped eliminate drought and abnormally dry conditions from the southeastern part of the state, but the very hot temperatures coupled with the lack of rain increased drought conditions in northwestern and central Georgia and helped bring exceptional drought conditions to the northwestern corner of the state by the end of the month.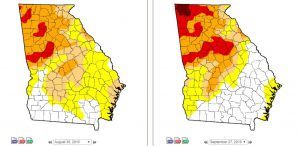 More impacts on agriculture were reported in September.  Continued dry conditions and armyworms further decimated pastures in northwestern Georgia.  Some farmers report that this is the worst it has been in 60 years of farming.  Losses of up to 80 percent of the hay and 60 percent of the soybeans have been noted in some of the worst-hit areas.  Many farmers there have sold off cattle or tried to purchase additional hay to get them through the coming winter.  Dry conditions across most of the state have delayed planting of winter crops and have made it difficult for dryland peanut farmers to harvest.  This will also make it difficult for pastures to recover.  However, in wetter areas harvest is going strong and farmers in those areas appreciate the drier conditions during their peanut and cotton harvests. Winds from Hurricane Hermine also caused millions of damage to pecan production in southeastern Georgia, including some farmers losing 30-80 percent of their crops this year.
The outlook for October shows a continuation of above-normal temperatures through the month.  Rainfall from Hurricane Matthew may bring additional rainfall to coastal Georgia but the rest of the state is likely to be drier than normal again in October.  Below normal rainfall is expected to occur through the end of 2016, which is likely to increase and expand drought in areas that missed Hermine and Julia.
For more information please see the "Climate and Agriculture" blog at http://site.extension.uga.edu/climate/  or visit our web page at http://www.gaclimate.org.  Please feel free to email your weather and climate impacts on agriculture to share on the blog to pknox@uga.edu.