The Weather Underground blog published an interesting story today on the unseasonably early decrease in the Arctic sea ice (link).  Normally March is when the maximum extent of sea ice occurs, at the end of the long winter season.  However, this year satellite observations of sea ice extent show that the sea ice already appears to be shrinking towards its summer minimum.  Separate calculations from Japan's National Institute for Polar Research and the US National Center for Snow and Ice Data Center both confirm the decrease in sea ice extent, based on comparisons to records that began in 1979.  This is most likely due to the unusually warm conditions observed across most of the Arctic the past few months, while the coldest air shifted to a spot right over the eastern US this winter.  If this trend towards early melting continues, this year may set a new record for minimum sea ice extent.  The graph below shows the last few years compared to the long-term average from 1979-2014 (shown in gray in background).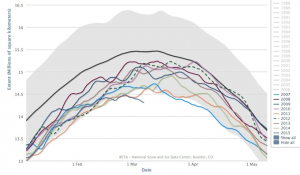 The global temperature map below shows the temperature differences from the long-term average in January 2015, showing the warmth across most of the Arctic and the cold conditions in the eastern US.  Today's anomalies are shown below that from Climate Reanalyzer.org.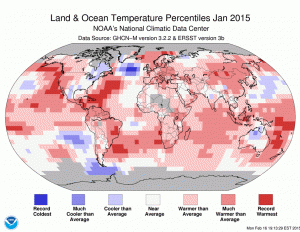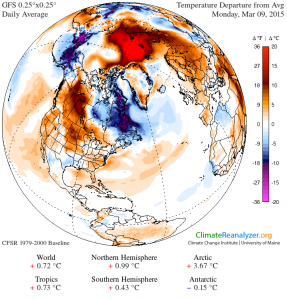 It's not clear what impact an early reduction in sea ice extent will have on the weather of the Southeast this year.  Meanwhile, a weak El Nino is expected to increase precipitation across most of the Southeast this spring.