Root-Knot Nematodes have become a major pest in cotton and cause more economic damage to Georgia crops than any other species of nematode.  Historically, cotton varieties with resistance to root-knot nematodes did not produce competitive yields.   According to UGA Cooperative Extension Plant Pathologies, Dr. Bob Kemerait, with cotton, if you plant resistant varieties in a heavily root-knot nematode-infested field, they will outshine the susceptible variety.
This year, Burke County Agents, Katie Burch and Peyton Sapp collaborated with UGA East Georgia Agronomist, Mark Freeman, to conduct a Nematode Resistant Cotton Variety Trial located at the Southeast Research and Education Center in Midville, Georgia.  Two large-plot experiments were planted in dryland and irrigated conditions.  The plots included three nematode resistant varieties (DP 1747, ST 4946, PHY 480) as well as the most commonly planted variety in the region (DP 1646) planted with and without an at-plant application of aldicarb.  Both locations showed moderate to high levels of root-knot nematode populations in samples taken post-harvest in 2017. Below is a graph to demonstrate data collected.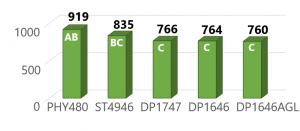 Results are from the early planted, dryland Nematode Resistant Variety Trial post Hurricane Michael.  Crop losses of 46% were recorded at the Southeast Research and Education Center in harvest ready cotton.  Losses were not specifically estimated for this plot.
Nematode Resistant Varieties do have an effect on yield potential.  Statistical differences were observed between varieties for yield.  Findings from test plots conclude that Nematode Resistant Varieties showed greater yield production than Non-Resistant Varieties where nematode pressure is present.