Mrs. Louise McClain has been the heart of Burke County's Extension Office for 30+ years.  We certainly do appreciate everything she does for each of us and the welcoming smile that greets you as you walk in the door.  Please join us as we celebrate her career here with Burke County Extension.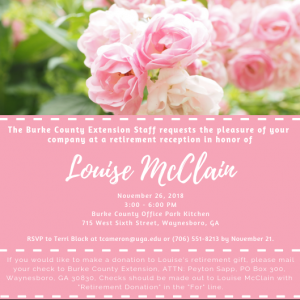 The reception will be held November 26 from 3:00-6:00 PM at the Burke County Office Park Kitchen.
If you would like to make a donation to Louise's retirement gift, please mail your check to Burke County Extension. ATTN: Peyton Sapp, P.O. Box 300. Waynesboro, GA 30830.  Check should be made out to Louise McClain with "Retirement Donation" in the "For" line.
RSVP to Terri Black at tcameron@uga.edu or (706) 551-8213 by November 21.