Silverleaf Whitefly adults have been observed in low numbers across Burke County.  From what we have seen, immature whitefly levels have not reached threshold and therefore no treatment is necessary at this point.  Historically, we understand we do not typically treat for whiteflies in Burke County.  However, it is important to be aware and to know what to look for!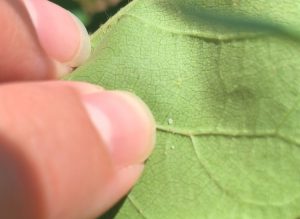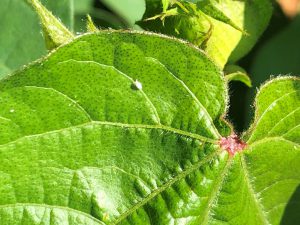 According to Dr. Phillip Roberts, we are in a much better situation at this time than we were last year across the state.  It will be important that all fields are monitored closely for SLWF and hopefully proper proactive management can minimize damage and the need for insecticides.
Management Considerations:
Scout for the presence of SLWF adults.  It is important to know if SLWF is present!
Conserve beneficial insects, do not apply insecticides for any pests unless thresholds are exceeded.

Beneficial insects will also suppress corn earworm.

If SLWF is present in a field, avoid use of insecticides for other pests which are prone to flare SLWF.
Scout fields frequently for immatures once fields are infested with SLWF.
Be timely with SLWF insecticides when thresholds are exceeded.
Be aware of SLWF infestations in hairy leaf varieties and late planted cotton, these are high risk fields!
You may visit our county website for more information on scouting and management practices.
If you have any questions or would like for us to come take a look at your crop,
contact the Burke County Extension Office at 706-554-2119 or call our cell phones directly.