Over the last week, Redbanded Stink Bugs have been reported in soybeans across the state.  On June 19th multiple Redbanded Stink Bugs were observed during Scout School hosted at the Southeastern Research and Education Center in Midville.  According to UGA Entomologist, Dr. Phillip Roberts, Redbanded Stink Bugs cause more damage than Stink Bugs in Georgia soybeans.  Therefore, correct identification is critical!
Below is a photo of an immature and adult RBSB.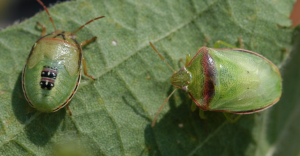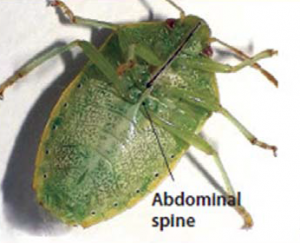 Redbanded Stink Bugs are half the size of Green or Brown Stink Bugs.  The primary characteristic of a RBSB is a long spine from the abdomen that protrudes between its hind legs.  If there is no abdominal spine it is a Redshouldered Stink Bug.
According to Dr. Roberts, Redbanded Stink Bugs are not a pest of cotton.  Therefore, it is important to be aware of the difference and properly identify before treatment.
For more information, please contact Burke County Extension Office at 706-554-2119 and ask for Katie or Peyton.