1-green-beans-recipeThis recipe can be made ahead up to step 3 and refrigerated the day before serving. Reheat with the remaining ingredients before serving.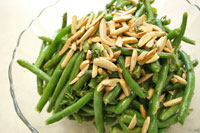 Ingredients:
2 pounds green beans, trimmed
2 tablespoons olive oil or reduced-fat margarine
1 tablespoon Dijon mustard
1/2 teaspoon garlic salt
2 tablespoons chopped fresh thyme
1/3 cup slivered almonds, lightly toasted
Instructions:
Cook the green beans in a large pot of boiling water until just crisp-tender, about 5 minutes. (Can be cooked longer if you prefer a softer bean.)
Drain and transfer the beans to a large bowl of ice water, cooling them completely. (The ice water will shock the beans into a vibrant green color.) Drain the beans well.
At this point you can either continue to make the beans or store them in the refrigerator to finish up and serve tomorrow.
Place a heavy skillet over medium-high heat. Add the oil when the skillet is hot. Whisk in half of the fresh thyme (1 tablespoon), the Dijon mustard and garlic salt. Add the beans to the skillet and toss until heated through, about 4 minutes.
Transfer to a serving bowl. Sprinkle with toasted almonds and the remaining thyme.
Serves 8